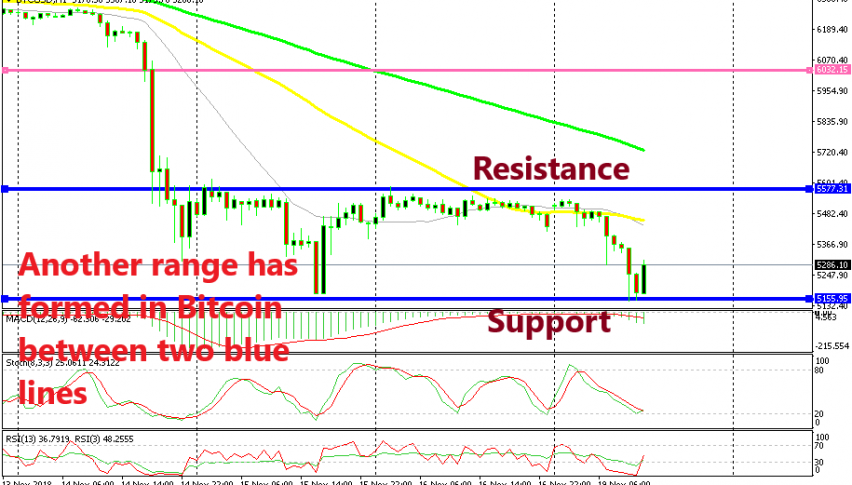 The Range has Moved $1,000 Lower in Bitcoin
Cryptocurrencies finally made a move last week after having traded inside a tight range for quite a long time. The range in Bitcoin was defined by the major support level of $5,000 at the bottom, which also had a $200 buffer zone below and above it. The top was defined by the 50 and 100 SMAs which were providing resistance at around $6,500-$6,700.
But last Wednesday,, cryptocurencies made a move to the downside with Bitcoin leading the way. The reasons were both technical and fundamental. Cryptos had been on a tight range so if a decent move started, the market was going to go in that direction. Besides, the major support broke for Bitcoin, so that was another technical reason for the sellers to pile in.
The fundamental reasons were the introduction of a hard form for Bitcoin Cash on Thursday and some cryptocurrency deleveraging from institutions. So, Bitcoin broke the major support area around the $5,000 level and it lost more than $1,000 in those two days.
It got pretty close to the $5,000 level but the decline stopped above it and in the last several days, we have seen Bitcoin trade between that level at the bottom and $5,150 at the top. So, another trading range has formed in Bitcoin now which is pretty much as wide as the previous range $1,000 higher.
Today, we are seeing another bearish move as Bitcoin has lost around $400 pips in the last few hours. I see that, but that should have been good news for Bitcoin. Anyway, the support at $5,150 is holding again since Bitcoin has just jumped $150 higher in the last few minutes, so I suppose this support area will hold.
Now, the range has been formed and we will see if we can get a trade within this range. Although, I don't like to buy Bitcoin right now since the pressure is on the downside.
SO, I will wait for the price to reach the top of the range and probably sell Bitcoin up there with a stop above $6,000 and TP target close to the new support area.