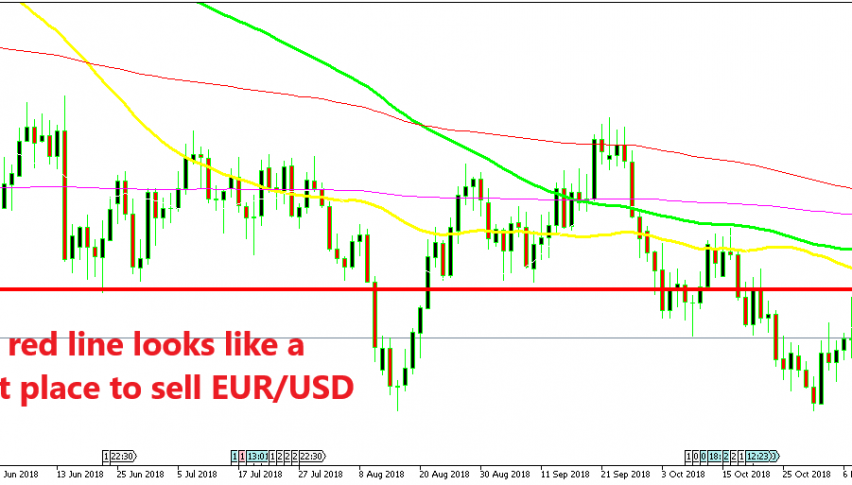 EUR/USD Approaching the Big Resistance Level. Ready to Sell?
EUR/USD has turned pretty bearish in the last two months. It made a decent retrace from mid August until mid September but it failed to break and hold above the 1.18 level, so this pair turned bearish in September and it continued down for two months with some pretty weak retraces during this period.
Although a decent retrace is now under way.  EUR/USD finally broke below the 1.13 support level last week, which was a major break since that level has been a long term support and resistance level. But before breaking 1.13, EUR/USD broke below another major level at 1.15.
This round level was broken in August for the first time since EUR/USD moved above it in July last year. Although, despite that, it has acted as solid support quite some time. Once it was broken, it turned into resistance, as you can see form the doji candlestick that we have circled. The price reached exactly 1.1500 after bouncing off the 1.13 level for the second time in late October.
But, the price reversed right at 1.15, so now this level has turned into a major resistance for EUR/USD. This pair reversed from 1.1215 last Tuesday as news hit the portals that the EU and the UK had reached an agreement for Brexit. The Brexit deal doesn't look that favorable for Brexiteers so the GBP has been having second thoughts in the last week or so, but it is good enough for the Eurozone and the Euro.
So, here we are now, heading towards this major level. So, what do you plan doing guys? I am planning of going short with a long term sell forex signal if I see EUR/USD forming a doji or a pin or a hammer up there, which would signal a possible reverse.
The 50 SMA (yellow) comes right there at the moment and the 100 SMA (green) is quickly catching up and they are supposed to add extra strength to that level. Goldman Sachs issued a statement to their customers yesterday saying that they expect the USD to enter a bearish tend next year, but one, I don't really trust Goldman Sachs and two, there is still plenty of time until the end of the year for this trade to unfold. So, if we get one of those reversal candlesticks this week, then we will likely go short close to 1.15.