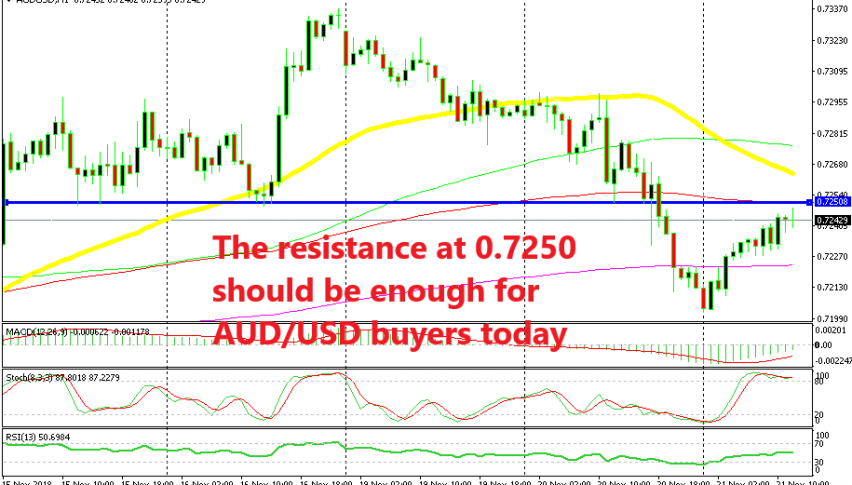 Trying to Pick a Trade on AUD/USD on the Short Side
Posted Wednesday, November 21, 2018 by
Skerdian Meta
• 2 min read
Commodity Dollars have been trading on an uptrend for the last three weeks and AUD/USD has been among the leaders during this uptrend. But this week, the situation seems to have changed and AUD/USD has lost nearly 150 pips from top to bottom.
In the last two days, the pressure has been completely on the downside, especially yesterday as the USD received some decent bids after being battered for several days. So, while some can argue that this might be the retrace of the uptrend of the last several weeks, this week's trend in AUD/USD is definitely bearish.
So, we have decided to use this downtrend and are now trying to pick a trade in one of the main forex pairs. AUD/USD looks quite interesting because it has completed the retrace higher on the H1 chart. As you can see from the H1 chart on at the top of this article, AUD/USD has been climbing higher during the Asian session and it is now overbought as the stochastic indicator shows.
Because of that, we decided to go short on this pair right now. Also, the area around 0.7250 is a decent resistance zone as well, which will likely scare the buyers away if they manage to push up there since it is not far from the current price.
The 50 SMA is providing resistance again
If we switch to the H4 chart, we see that the price is just below the 50 SMA (yellow) right now. The stochastic indicator is not overbought yet on this time-frame chart, but this moving average has acted as strong support and resistance indicator.
It looks like AUD/USD is finding resistance again at this moving average today, which gave us another reason to go short on this pair. We could have traded NZD/USD instead, but AUD/USD seems weaker this morning since the retrace is smaller than in NZD/USD, meaning that the bearish pressure is stronger in this pair. Now, let's wait until the buyers give up and sellers take back control.