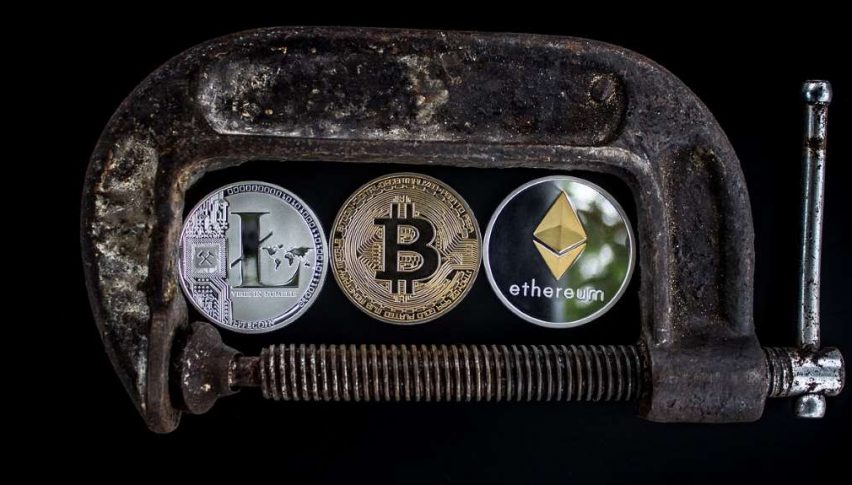 Bitcoin Consolidation Pattern $4000-$4500
Disjointed price action is a common characteristic among markets searching for a value area. Currently, Bitcoin (BTC) is such a market, with buyers and sellers attempting to establish a fair price. For the last four sessions, the range of $4500-$4000 has been heavily traded. The result has been a compression pattern on the daily chart for November BTC futures.
When there is a lack of moving averages, Fibonacci numbers, or other technicals near price, big-round-numbers gain importance. BTC has reinforced this point, with price rejecting $4000 and rotating back to $4250 and $4500.
Let's take a look at the daily chart for November BTC futures and see if we can determine which direction this market is headed.
November Bitcoin (BTC) Futures
In an update from yesterday, I outlined the "L" pattern that developed for the USD/CHF. BTC is currently exhibiting similar characteristics. Is a directional move on the way?
Here are the levels to watch for BTC going into the weekend:
Resistance(1): Psyche Level, $4500

Resistance(2): 38% Retracement, $4981

Support(1): Swing Low, $4015
Overview: To be honest, I expected $5000 to be more of a magnet for BTC. Price steamrolled through this level, posting a test of $4000 in short order. From a technical standpoint, the bearish trend is in full effect. Buyers have yet to step in and seriously challenge sellers.
However, $4000 has proven to be valid support on several occasions. While simply an arbitrary big-round-number, this market has to bottom somewhere. One thing is for sure ― the selling is consistent. If bargain hunters fail to step in at $4000-$3800, then a rapid drop to $3000-$2500 becomes probable.
If you are long this market from $5000ish, keep a close eye on $4000-$3800. In the event it gives way, it may be best to exit and look for a better entry in coming weeks.