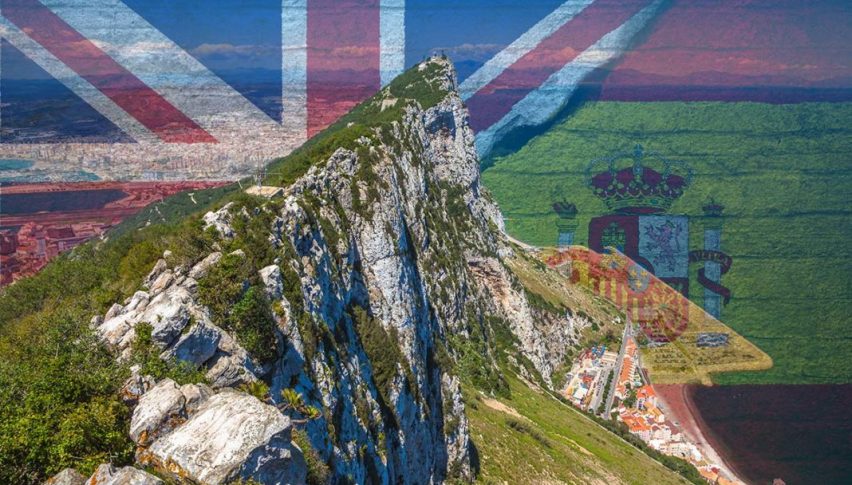 US Session Forex Brief, November 23 – Sentiment Turns Negative as More Problems Arise in Europe
Europe has two major fundamental problems at the moment – the Irish border regarding Brexit and the Italian budget for next year which is unlikely to be accepted by the EU. EU's Budget Commissioner Moscovici was convinced yesterday that they could reach an agreement with Italy and Italian politicians are still calling for dialogue with the EU, not war, as Di Maio said this morning, but both sides are standing firm on their position when it comes to the 2.4% budget deficit, so I don't see how they can find common ground. An Italian official was rumored to resign over this issue today.
The Irish border issue remains unresolved, but now we have another border problem for Theresa May in Gibraltar. Spain has threatened to veto the EU-UK agreement which might bite Britain later when they try to strike a trade deal post-Brexit.
Besides all this, the Eurozone services and manufacturing data today was very weak and it seems like these sectors might fall flat or contract in the coming months. The economic rebound that the ECB had hoped for in Q3 doesn't seem to have materialized, so the rate hike that the ECB had planned for next September is in jeopardy now and the Euro is feeling the bearish pressure.
The European Session
Italian's on the Budget Deficit – Italian Deputy PM Luigi Di Maio said early this morning that he wants a dialogue with the EU, not war, and that he also wants to stop this daily back-and-forth give and take with EU officials. He tried to reassure markets, adding that Italy does not want to leave the Eurozone and is highly willing to negotiate but cannot betray Italian citizens. Italy's EU affairs minister Paolo Savona is considering resigning so things are getting messy.
Eurozone Final Services PMI – French final services PMI for November came as expected at 55 points but declined from last month which was also revised lower to 55.3 points from 55.6. The German services also declined, coming at 53.3 points against 54.6 points previously. The Eurozone services number declined to 53.1 points from 53.7 points previously.
Eurozone Final Manufacturing PMI – Manufacturing was even worse as French manufacturing sector declined to 59.7 points which is close to being flat, the German manufacturing declined to 51.6 PMI points from 52.2 previously, and the Eurozone manufacturing came at 51.5 points, down from 52.0 points last month.
The Gibraltar Problem Arises for Brexit – The UK Gibraltar Chief Minister Fabian Picardo commented this morning that they have reached an agreement with Spanish colleagues on Gibraltar, but later representatives from the Head of State in Spain commented on Bloomberg that they are not happy with the agreement. They can't veto the UK withdrawal since it only needs 20 votes out of 27, but they can veto the post-Brexit trade deal between the EU and the UK.
Salvini Wants Respect From Juncker – The other Italian Deputy PM Matteo Salvini commented in a Sky interview asking for respect from Juncker on Italy and he thinks that Italy will be in a better place in a year's time.
The US Session
If UK Parliament Votes the Deal off, Brexit Back At Square One – UK Prime Minister Theresa May was speaking on BBC saying that if the deal is rejected by the UK Parliament, there will be more division and the EU won't give them more when they go back to Brussels. The payment to the EU will also increase if the transition period is extended.
Canadian Retail Sales – Retail sales increased by 0.1% in Canada in September which is lower than expectations at 0.3%. Although, it is a turnaround after the 0.4% decline that we saw in last month's report.
Canadian CPI – The core consumer price index inflation has been declining for the last two months in Canada, but today it jumped 0.3% higher. The headline CPI number also increased by 0.4% which is even better, against 0.0% expected. The annualized CPI number increased to 2.4% from 2.2% last month.
Belgian NBB Business Climate – Corporate profits rose by 3.9% in Canada during Q3 2018. That's higher than the 1% increase in Q2 and it is the highest since the same period last year.
Eurozone Consumer Confidence – This indicator turned negative again last month at -1.1 points after it surfaced in the previous month. Today, this indicator is expected to decline further to -1.8 points, which shows that consumer confidence in Europe is not great.
Trades in Sight
Bullish EUR/GBP
The trend has turned bullish last week
The retrace down is complete on the H4 chart
The 50 and 200 SMAs are providing support
The previous candlestick points to a bullish reversal
The stochastic indicator is severely oversold
EUR/GBP turned bullish last week as Brexit became more complicated and the GBP declined, but it slipped lower yesterday as the GBP surged higher on positive Brexit rumors. That decline has brought the price in EUR/GBP to 0.8850s where we can find the 200 SMA (purple) and the 50 SMA (yellow). They are both providing support to this pair which is now oversold as the stochastic indicator shows, so the bearish retrace is complete for EUR/GBP. Besides, the previous candlestick closed as a doji/spinning top, which is a bullish reversing signal after a bearish retrace.
In Conclusion
All the important economic numbers for this week are already out so there is not much to drive the markets this Black Friday. The US traders should be away from their platforms since yesterday was Thanksgiving Day which turns into a long weekend in the US. So, look out for some trade adjustment before the weekend, guys.