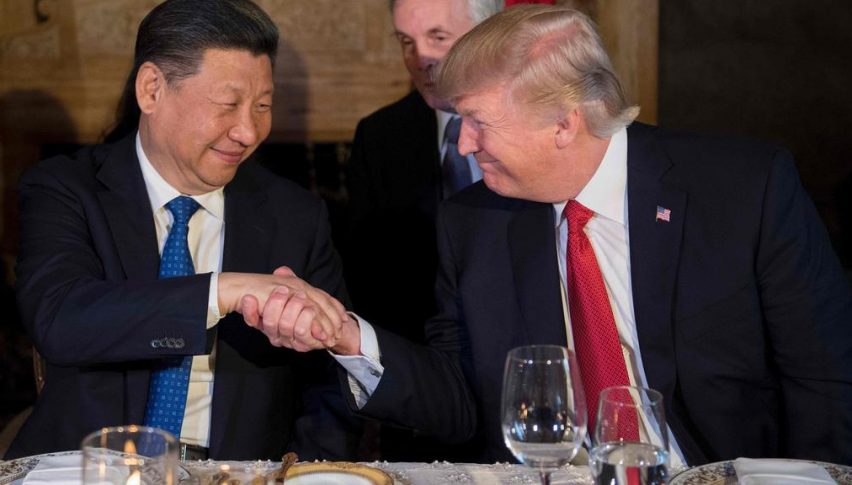 Risk Assets Jump and Then Come Back Down on Trump-Xi "Fake News"
The first thing a forex trader can spot this morning is the decline in the risk assets so far in the European session. EUR/USD, GBP/USD, stock markets, etc., are all slipping lower this morning, but not before they made a spike higher earlier in the day on some fake news.
The US President Donald Trump and the President of China Xi Jinping held a meeting early this morning and there was a particular comment which spiked the markets for a moment. China's Foreign Secretary Spokesman Geng Shuang commented that "Trump and Xi agree to mutually beneficial agreement".
That sounded like a bit of a surprise, but the markets ran away with that comment nonetheless. AUD/USD jumped around 50 pips higher while the Kiwi climbed around 30 pips higher. Those two currencies are the most affected by the Chinese economy since China gets a lot of its raw materials from Australia and New Zealand.
But, those were "Fake News", it appears now. Apparently, there was a mistake in translation because the comment referred to the November 1st phone call between the two Presidents. Not that China wouldn't have liked another agreement now, but that is not happening, from what I understand.
Donald Trump said that it is highly unlikely that he will delay the 25% tariffs on $200 billion Chinese goods and, if they can't reach a trade deal, then there will be more tariffs on an additional $267 billion Chinese goods.
So, this is quite the opposite of the "Fake News" headline. The sentiment is leaning a bit on the negative side at the moment and if there is no deal and Trump pushes for more tariffs with China besides the $200 billion promised, then the sentiment will get worse, so brace yourselves for some JPY, CHF, Gold and possibly USD buying in the coming days.