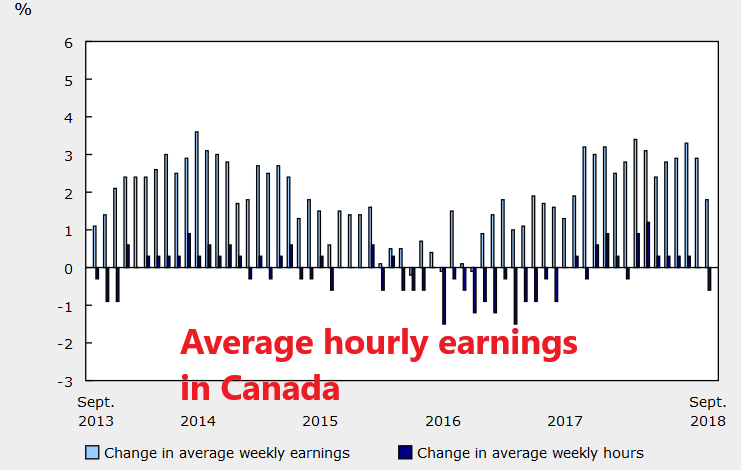 Bank of Canada Should Take Notice of Slowing Earnings
Most of the attention surrounding the Canadian Dollar has been focused on Oil prices. The recent decline in Crude Oil prices has sent the CAD lower and the CAD traders have mainly been trading the price action in Oil markets, to be honest.
But, the Bank of Canada (BOC) and CAD traders should take a look at other factors of the Canadian economy. One of the main components of an economy are wages and salaries, or earnings in total, which include them both. The recent earnings report which released today from Canada showed that average hourly earnings slowed down considerably this year.
Last month, average hourly earnings grew by 2.87% on an annualized basis, while today the average earnings have showed that the increase has slowed considerably to just 1.80% for the whole year. If wages don't grow as fast as inflation, then it will weigh on other sectors of the Canadian economy such as retail sales, consumption, consumer sentiment, etc.
Looking into the details of the earnings report, we can see that wages declined by around 10% in mining, quarrying, and Oil and Gas extraction. There has been a slowdown in Oil and Gas extraction recently in Canada so that might have affected earnings, but this is a major thing. The BOC and CAD traders must keep an eye on wages and salaries in Canada because if they start falling, then the CAD will follow them lower as well.
Crude Oil has been bearish for more than a year, but this week we saw a decent reversal higher on higher Caixin manufacturing
2 days ago