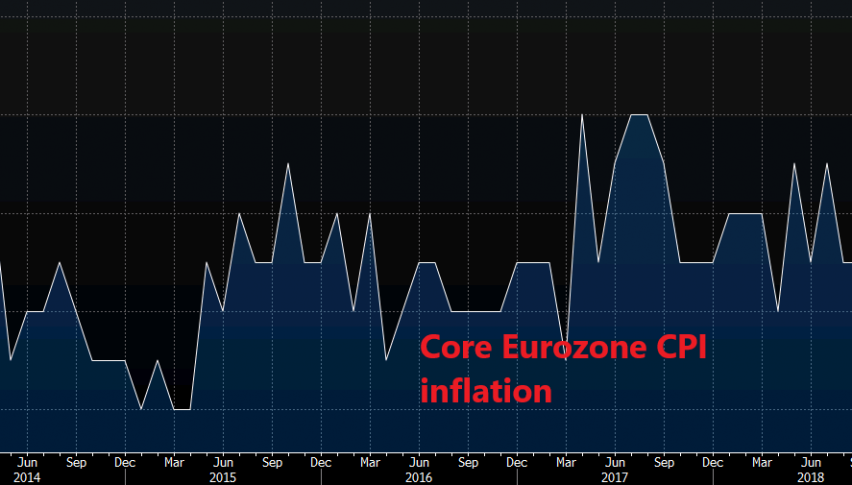 ECB Should Take Notice As Eurozone Inflation Ticks Lower
The economy of the Eurozone has been slowing considerably lately. Just from today's economic data we can easily confirm that. The German retail sales declined by 03% in October as today's report showed, the unemployment rate came 0.1% higher than expectations while inflation ticked lower.
The main annualized CPI number (consumer price index) was at 2.2% in October, but today it lost two points, slipping to 2.0%. We have heard some dovish comments from ECB officials recently, acknowledging the soft patch of the Eurozone economy. But remember that the ECB (European Central Bank) target for inflation is at 2%, so if inflation weakens further and falls below it, then the ECB should turn even more dovish. So, the Euro traders should take notice of this report too and keep an eye on the upcoming data from the Eurozone because the Euro will take notice of the soft numbers as well at some point.
The annualized core inflation number also ticked lower to 1.0% from 1.1% previously. The ECB doesn't have an official target for core inflation but we know that they like it above 1%; below 1% and it means trouble.  So, we know that the ECB is keeping a close eye on the inflation numbers and today's figures must have taken their attention even more.
This should be negative for the Euro and it should have entered a bearish trend today after the round of soft economic data from the Eurozone. But, the G20 summit has just started and will continue over the weekend, so forex traders don't want to get too far ahead of themselves because you never know how it might end.