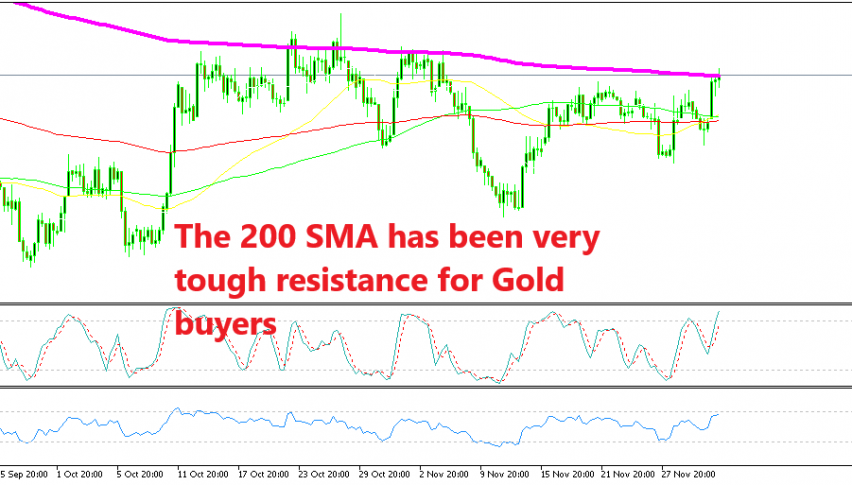 Gold Faces the 200 SMA After A Strange Bullish Day
The market sentiment improved over the weekend ans the US and China made a truce in the trade war which seems to lead to a trade deal soon, although nothing is official yet. As a result, stock markets opened with a bullish gap higher last night as did the risk currencies and the risk assets continued climbing higher during the Asian session.
This means that safe havens should have been crashed today, but that wasn't the case. Th.e JPY and the CHF are more or less unchanged on the day so far So, while traders jumped on risk assets as sentiment improved, they kept some of their funds in safe haven assets as well, just in case the Trump-Xi agreement proves to be false later on.
In fact, GOLD has had a pretty bullish day today. It opened with a small bullish gap last night at $1,224 and it surged higher during the European session, climbing around $12. This could be also attributed to some USD weakness today.
But now, Gold buyers face the 200 SMA (purple) on the H4 chart. This moving average has been the ultimate resistance indicator for nearly two months since the beginning of October. Now, Gold is flirting with that moving average and the stochastic indicator is overbought, which means that this bullish move is complete from a technical perspective.
This looks like a good opportunity to sell Gold up here with a stop above $1,240 and a profit target somewhere near $1,200. The risk/reward ratio looks great, but the problem is that Gold has been gaining when the sentiment has been positive. What when the sentiment turns negative? The price action today has been pretty bullish which looks pretty suspicious for sellers, so I'm staying on the sidelines for now. This could as well be a great opportunity for sellers which we will lose, but you can take the trade if you have the nerves.