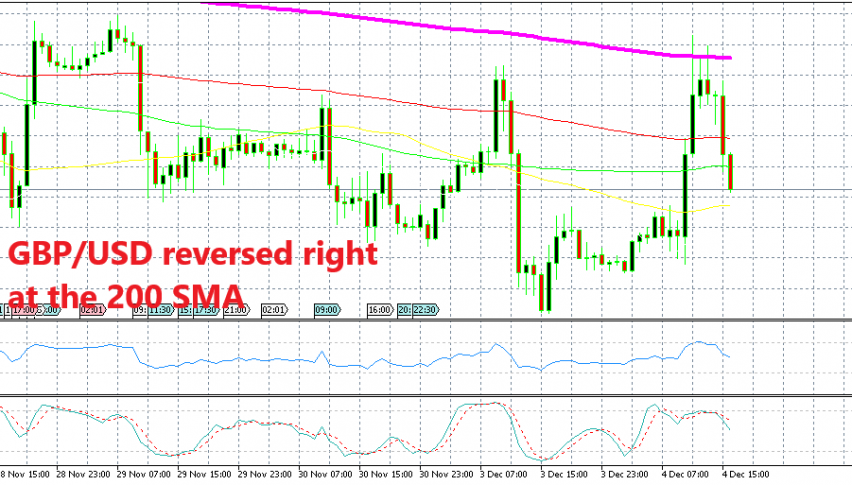 GBP/USD Fails at the Moving Averages After the Surge on ECJ Rumours
GBP/USD surged around 120 pips this morning on rumours from a European Court of Justice aide that the ECJ will leave it open to the UK to return to the EU if they decide, by ruling that Britain can revoke Article 50 without consent form other EU members. That's unlikely to happen but the GBP surged higher nonetheless.
So, GBP/USD climbed for nearly 120 pips but the buyers ran into the 200 SMA (purple) on the H1 chart as you can see from the H1 chart. But, they couldn't break above that moving average despite trying three times as the three candlesticks below it show.
The 100 SMA did a good job providing resistance this morning
If we switch to the H4 chart, we see that another moving average is standing at the same level as the 200 SMA on the H1 chart. Here, it is the 100 SMA (green) which has been providing resistance this morning. After a few attempts, it seems that the buyers gave up.
Now this pair has given back almost all its gains as it heads down towards the lows once again.  The comments from the Bank of England Chairman Mark Carney that the GBP hasn't priced in a disorderly Brexit yet have had some impact as well. His comments imply that if the British Parliament doesn't pass Theresa May's Brexit deal on December 11 then the GBP is likely to crash lower. So, down heads the GBP but this decline is nothing to what will come next if the UK ends up with no Brexit deal.