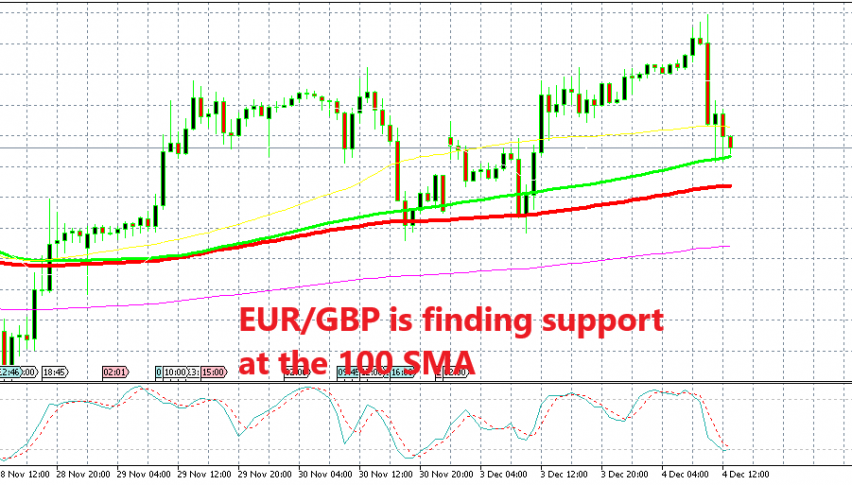 Getting Ready to Go Long on EUR/GBP
EUR/GBP has been trading in an uptrend in the last week. In fact, this forex pair turned bullish about a month ago and it has remained bullish since then as Brexit keeps looming above the GBP, which has kept this currency on the back foot during this time.
Although, it has retraced lower during the European session today. Buyers failed to push above the 0.8940 area which is a resistance zone since this pair has turned bearish at these levels in the last several weeks.
EUR/GBP has lost around 45 pips in the last few hours on news that the European Court of Justice might leave the door open for the UK to revoke Article 50 without the consent of the other EU member states. It is highly unlikely that the UK government does that, but it is a dim light for Remainers nonetheless.
But, the uptrend is still in play and the move lower seems exhausted now since the price has tried to break below the 0.8890 level in the last three hours, but has failed to do so, as the last few candlesticks show. The stochastic indicator is also oversold now so the bearish retrace lower is complete.
Besides that, we have the 100 simple MA (green) down here on the H1 chart. This moving average has been providing support today, although I would like to see the 100 smooth MA (red) because that moving average has been a stronger support indicator in the previous days.
But, the sellers look tired already, so we might actually go long from here if the sellers fail to break the 100 simple MA, so hang around for another forex signal, guys.