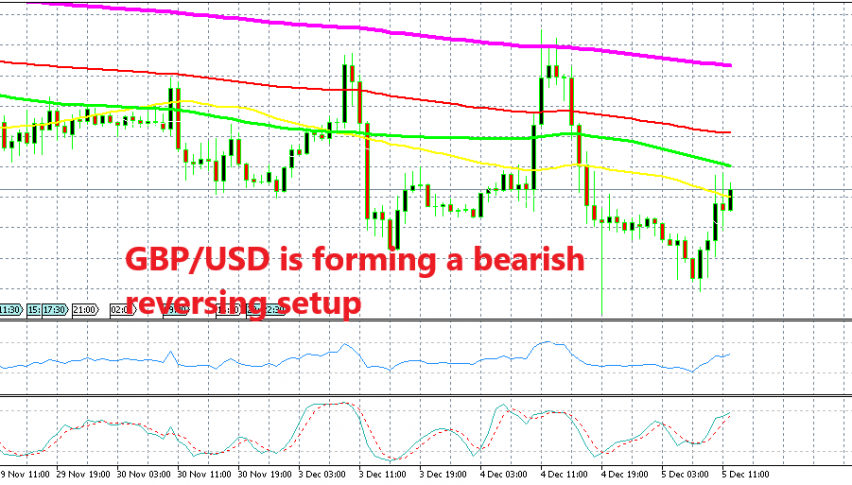 GBP/USD Looks Set For A Sell Trade as it Faces Resistance Indicators Above
The UK services PMI report that was released a while ago was pretty terrible, showing that this leading sector of the British economy is heading towards contraction. The headline number as well as some of the details of this report were the weakest that we have seen in a long time. Only the period following the Brexit vote two years ago or the financial crisis a decade ago brought weaker numbers for the services sector than the ones we saw in today's report.
But, the GBP ignored this report since all the attention is on Brexit now, as the date for the UK Parliament to pass or decline Theresa May's Brexit deal approaches. In fact, GBP/USD is around 20 pips higher now after the release of that report.
But, it is facing a number of moving averages above. The 50 SMA (yellow) is the first one and the price is playing with it right now, moving above and below it trying to make its mind up. The previous candlestick formed a doji below this moving average which is a reversing signal after the bullish move of the last few hours.
Above that, we have the 100 simple moving average (green) at 1.2750 and around 20 pips higher we have the 100 smooth moving average (red). The ultimate resistance indicator is the 200 SMA (purple) which stands at 1.2815 at the moment. But our signal would hit stop loss up there, so we hope that the smaller period moving averages reverse the price before the buyers push GBP/USD up there. We opened a sell forex signal at these levels, by the way.