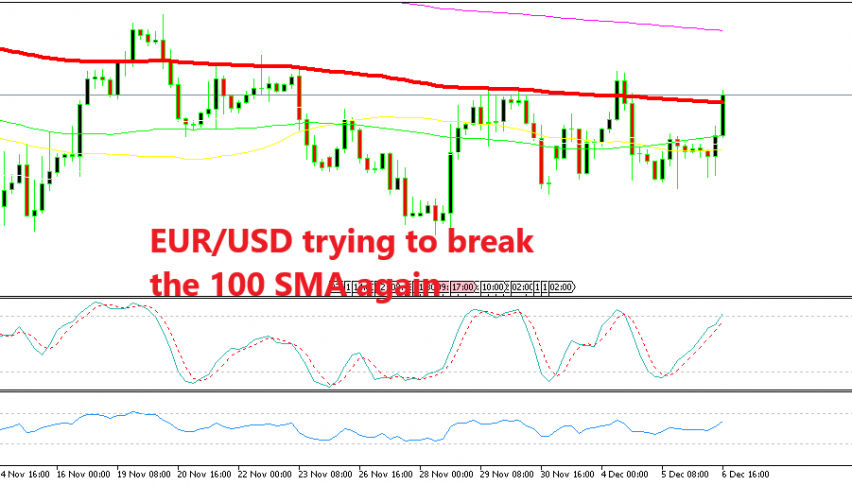 EUR/USD Faces the 100 SMA Again After the Jump
The US Dollar just got flushed down the toilet for a few minutes, but it was enough to do a damage in safe haven assets in particular. US treasury yields tumbled lower and it sparked a broad USD selloff across the board. Risk currencies benefited from that uncertainty and jumped higher.
EUR/USD claimed around 50 pips in a few minutes, which has brought the price in this pair back to the resistance area around the 1.14 level. The H4 candlestick from three periods ago which looks like a hammer was a bit of a giveaway since it signaled a possible reversal, but the trend was pretty bearish so we remained on the sidelines.
Now, EUR/USD is back at this area which has been providing resistance for quite some time. The resistance zone starts here at 1.14 and stretches higher to 1.1450 and even 1.15. But, the bottom of the zone is quite important.
Another important resistance here is the 100 SMA (red). This moving average has been providing resistance many times, despite being pierced twice before. The 100 SMA has been declining lower and the reverse for EUR/USD has declined lower as well as we can see from the H4 chart above.
Now, the stochastic indicator is overbought in this pair, so we have decided to go shot right here. The decline in US yields has stopped so perhaps we will see another reversal in EUR/USD soon from here.
Update: We sold EUR/USD up there and the pair reversed right at the resistance level while I was writing this update, so the signal closed and we booked profit.
USD/CAD continues to slide lower, although it stalled to the bottom of the range earlier, after the dive on the 25 bps hike by the BOC
7 hours ago