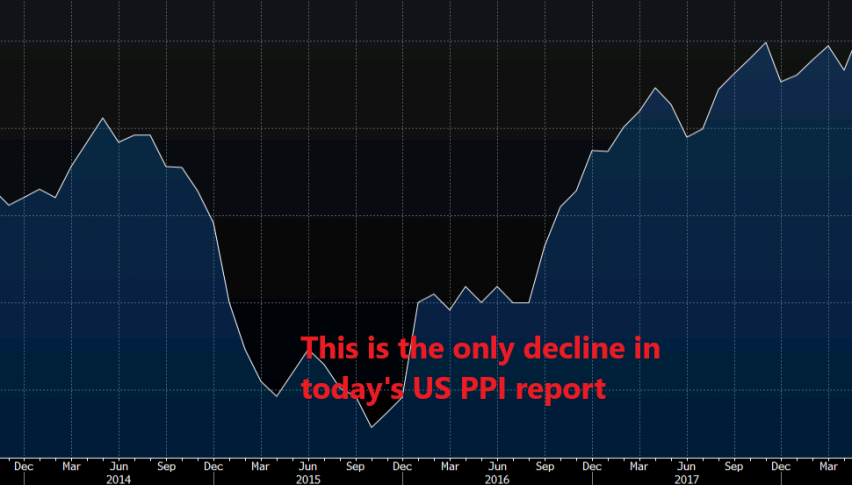 EUR/USD Resumes the Downtrend As US PPI Impresses Once Again
Yesterday, the USD made a bullish move which started in [[USD/GBP]] after Theresa May called off the Brexit vote, but then it spread across the board and the Buck ended the day on the upper foot. But, during the Asian and the European sessions the USD went through a bearish retracing period. Although, the retrace was pretty weak.
USD/JPY lost only around 35 pips during both sessions, AUD/USD and NZD/USD climbed around 50 pips higher while EUR/USD also climbed 50 pips which is about half of the decline yesterday, so the uptrend that started yesterday was still in place for the Buck. The USD buyers were waiting for another chance to go long on the USD and they got their chance a couple of hours ago.
The producer price index report was released a while ago and it leaned on the positive side, at least compared to expectations. The headline PPI number was expected to fall flat at 0.0% in November, but today's report showed a 0.1% increase.
Core PPI for November was the catalyst for the USD to resume the bullish trend since it jumped 0.3% higher when expectations were for a reading of 0.1%. The headline YoY PPI number came lower at 2.5% from 2.9% in October, but that was totally anticipated from the market.
The core PPI number which excludes food and energy increased to 2.7% from 2.6% last month and against 2.5% expected. So overall, the report is quite positive despite the dip in the headline annualized producer inflation number.
EUR/USD reversed right at the 100 SMA
EUR/USD was retracing higher during the European session as we said, but it failed at resistance once again which comes at 1.14. The 100 SMA (red) also comes right  there on the H4 chart. That moving average has been a solid resistance indicator, so it strengthened the resistance as well and EUR/USD reversed at 1.14 exactly. Now, this pair is around 80 pips lower.