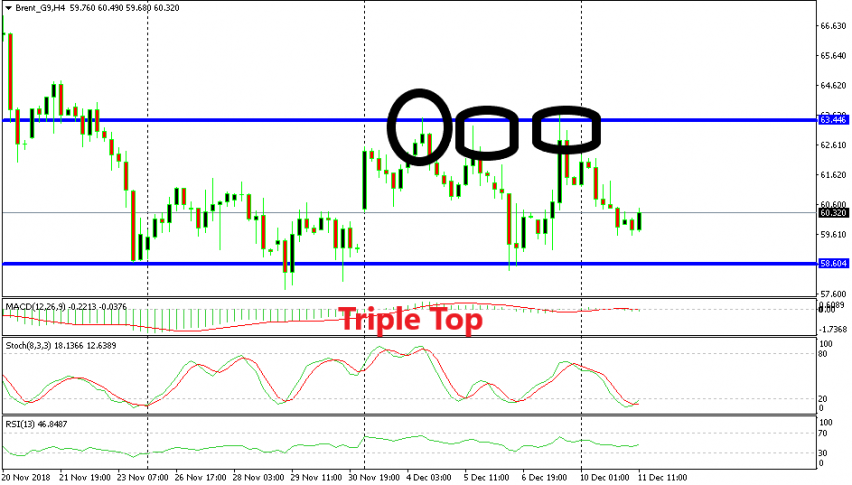 Brent Crude Oil Makes a Triple Top Pattern
Posted Wednesday, December 12, 2018 by
Skerdian Meta
• 1 min read
Oil Prices surged higher by the end of last week as OPEC+ decided to cut oil production more than the initial rumours which were counting on a 1 million barrels/day. Instead, Russia came forward cutting Oil production by 400,000 barrels/day on top of the 800,000 barrels that OPEC decided to cut.
So, the total cut went up to 1.2 million barrels/day and Crude Oil prices surged around $5 higher in the last several hours. UK Brent crude reached as high as $63.66. But that level had reversed Brent crude twice before that week, so it proved to be quite a tough nut to crack for Oil buyers.
Now, Brent Crude Oil has formed a triple top pattern. Not that it is a pattern in itself like the double top pattern which suggests that if the price breaks the neckline, it continues further down for as long as the distance between the two tops and the neckline.
But, it shows that the price has formed a pretty decent resistance area between $63.40 and $63.65-70. In fact, Oil has formed a range to be honest. If we look further back into the previous week and on Friday the week before that, then wee see that Brent crude has formed a support above $58.
So, you can trade the range for now if you see that Oil is about to turn bullish at the bottom of the range, or turn bearish near the top of it.