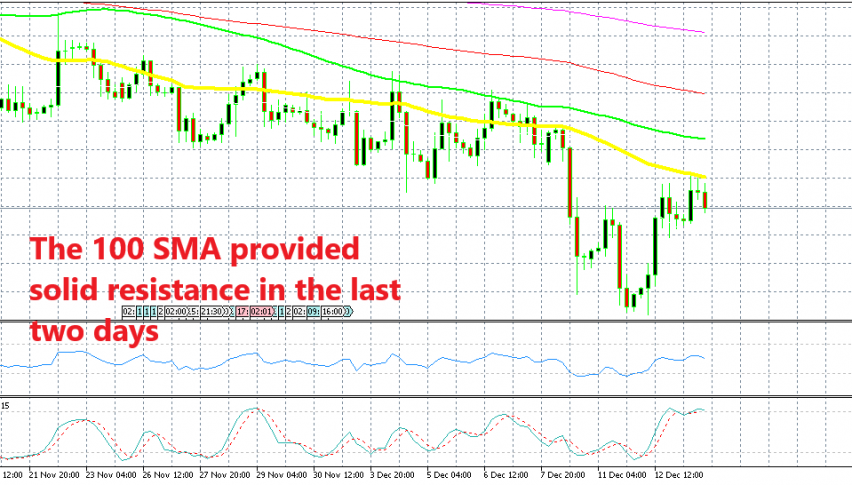 GBP/USD Reverses at Moving Averages After the Surge on May's Confirmation Yesterday
On the forex brief that I uploaded a while ago, I took a look at the GBP/USD on the H4 time-frame chart. This forex pair surged 200 pips higher yesterday after Theresa May confirmed her role as the leader of the Conservative Party and the Prime Minister of the UK. Had she lost at the Tory Party, then she would have to give up her position of the Prime Minister. But, she rallied 158 votes needed to pass from the Conservative lawmakers, so the GBP surged higher.
Although, yesterday's rally is just a mere retrace of the larger downtrend in this pair which started in April this year. We highlighted that GBP/USD is overbought on the H4 chat which you can see from the chart above. The price formed a doji in the previous candlestick which is a reversing signal after the retrace and the 50 SMA was providing solid resistance. So, the chat setup pointed to a bearish reversal on the H4 time-frame.
GBP/USD failed to break above the 100 SMA
If we switch to the H1 chart, we see than another moving average was providing support here. It stopped the surge twice yesterday and it provided resistance today despite being pierced a few times. That moving average is the 100 SMA (red).
We see that the price formed an upside-down pin/hammer 2 hours ago, which also is a reversing signal after a bullish move. The following candlestick looks pretty bearish, so the bearish reversal is already underway. The potential for sellers is around 150 pips from here to yesterday's lows while the stop should be around 80 pips higher, so the risk/reward ratio is at 1/1.5, which is not that bad for those who are thinking to sell this pair.