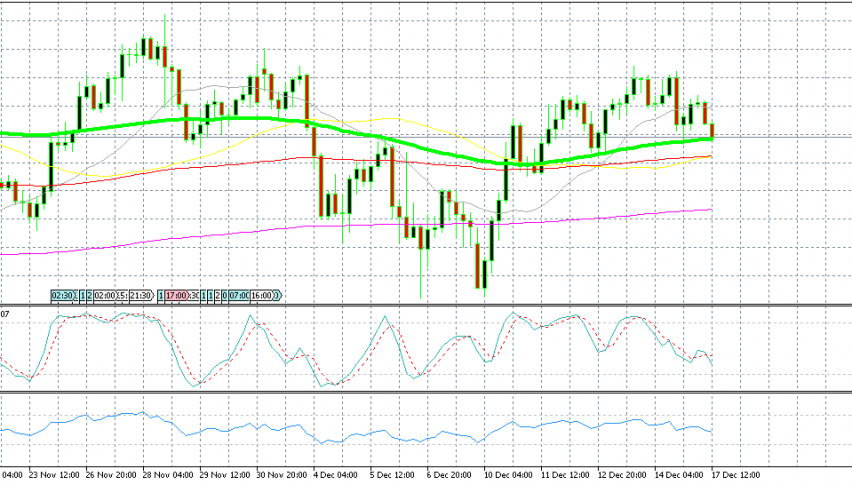 USD/JPY Comes Back to Moving Averages After a Short Lived Climb During Asian Session
USD/JPY reversed lower last Friday during the US session as the USD went through a retracing period after making a strong bullish move against other major currencies earlier that day. The other reason was some run for safe havens ahead of the weekend, because you never know what's coming a few days later with all these fundamental events going on around.
But, USD/JPY found solid support at the 100 SMA (green) on the H4 chart, as you can see from the image above. USD/JPY climbed around 30 pips during the Asian session after the sellers failed to break that moving average last Friday, but it has slipped back down during the European session today.
USD/JPY is trading between two MAs today
If we switch to the H1 chart we see that the 100 SMA (red) and the 200 SMA (purple) provided support last Friday. This forex pair opened with a small bearish gap this morning but it started climbing higher after sellers failed to break the 100 SMA (red) again early in the morning.
Although, the 50 SMA didn't let go and it provided strong resistance at the top side. The price hanged around 113.50 where the 50 SMA stands and after failing to push the price above it, the buyers decided to call it a day. So, here we are, back at the 100 SMA on the H1 chart and the H4 chart.
The price pierced below the 100 SMA on the H1 chart for a moment but it moved back above it. We have a buy forex signal in this pair which we opened last week, so we are long on USD/JPY, therefore we hope that the bigger bullish trend resumes soon.