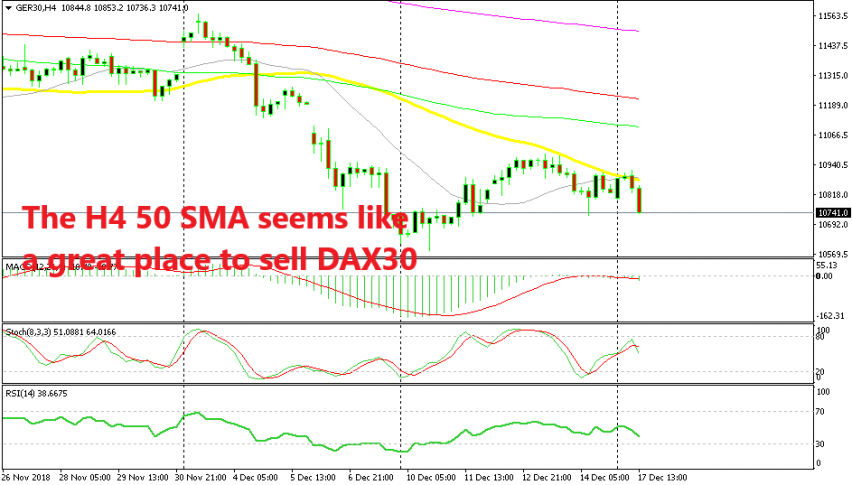 DAX Reverses at the 50 SMA Again As Stocks Remain Bearish
Stock markets have been bearish for several months now, with European stocks leading the decline. The US stock markets only caught up with the rest in early October, but they are bearish now as well and don't seem to find a decent support level to hold the decline.
The German index Dax30 and the Italian MIB40 have taken the hardest hits during this time. Every time the buyers put up an attempt to push the price higher, the sellers come back even more strongly and make new lows. Last week we saw DAX make new lows as it slipped to 10,585.
The buyers tried to reverse the price higher, but the 50 SMA (yellow) provided solid resistance at the top side, so that turned out to be just a retrace. Today during the Asian trading session, the sentiment turned positive and safe havens such as the JPY and GOLD were losing ground. USD/JPY climbed 30 pips higher.
DAX also climbed around 120 pips during that time, but it ran into the 50 SMA again and once again the buyers couldn't overcome it. During late European session, the sentiment turned negative again and safe havens recuperated their losses, while risk assets such as stock markets turned bearish again.
Now, Dax is 200 pips down from the highs and it seems like it is heading for this year's lows again. So, the 50 SMA held its ground once again on the H4 chart. Unfortunately, we missed the chance to sell at the 50 SMA. I would have loved to sell DAX up there and get 200 pips in a few hours but I just didn't see this chart before, so I have to suck it up.