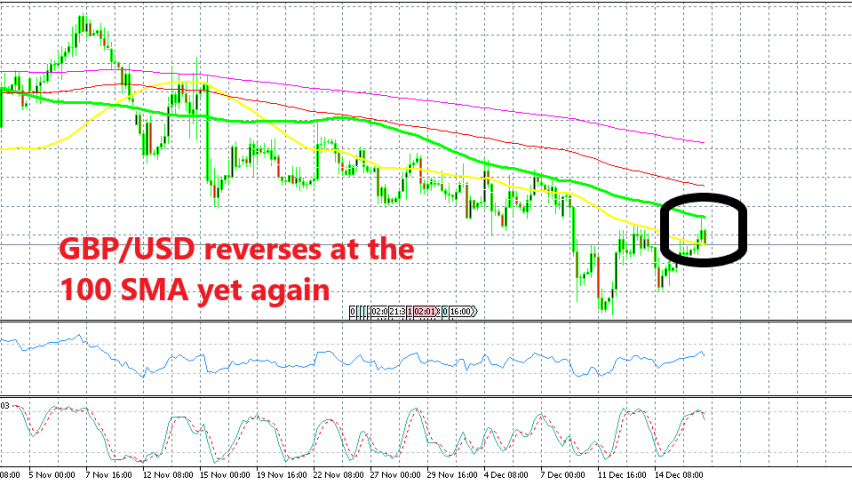 GBP/USD Turns Quickly Bearish After No-Deal Brexit Comments From May's Spokesman
GBP/USD has climbed around 150 pips higher this week so far due to some USD dumping ahead of the FED meeting. Going against the USD now that all other major economies are in difficulty is one thing, the other is going long on the GBP ahead of Brexit. But, that's the forex market for you, crowd mentality sets the market sentiment and things get crazy.
But, this pair ran into the 100 SMA (green) on the H4 chart. This moving average has been providing resistance for several weeks now and keeps doing that job very well. It stalled the surge during the European session and GBP/USD is already reversing from there.
The spokesperson of the British Prime Minister Theresa May was up a while ago speaking about Brexit and from what I heard, he sound like Theresa May is preparing the public for a no-deal Brexit scenario. Let's have a look at his comments below:
Cabinet agreed to set in motion the remaining elements of the no deal preparations
government will recommend business now enact there no deal plans as a judge necessary
citizens should also prepare for no deal Brexit
further detailed advice for citizens are no deal will be issued in coming weeks
government will provide information to all businesses and traders on how to prepare for potential changes at the border
leaving with a deal remains mostly likely scenario
plan includes securing space on ships for supplies such as medicines
there are a number of pieces of legislation would need to pass through parliament to be ready for no deal
He does end the speech with some positive comments about odds being in favour of getting a Brexit deal. But considering the whole speech, this is a strong signal that the UK might crash out of the EU with no deal. This is the first time that we hear such comments from May or her spokesperson.
GBP/USD lost around 70 pips but the 50 SMA (yellow) has turned into support now for this pair after being broken to the upside earlier today. Will it hold? I don't know, but the GBP should have crashed on these comments. Although, the market has heard a lot of contradictory comment regarding Brexit, so everyone is waiting for the last decision before making a major move on GBP.