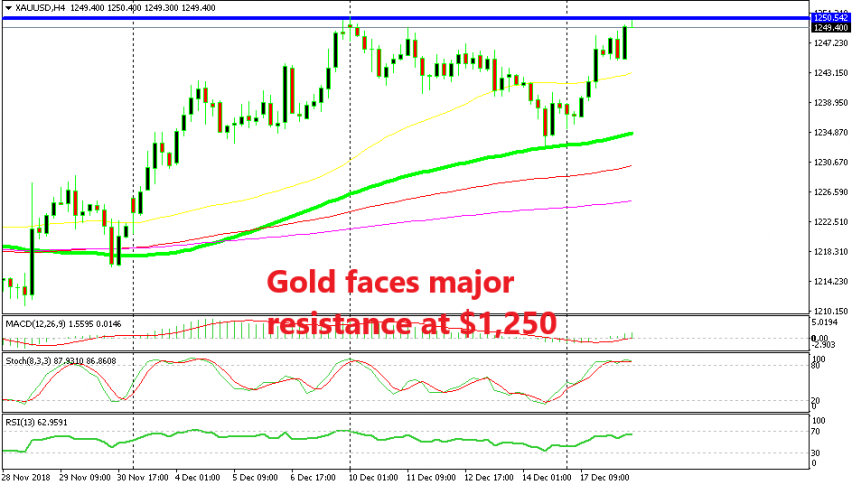 Gold Tries to Break Resistance as USD Gets Flushed Down the Sink
The US Dollar is going through a difficult phase at the beginning of this week as the FED prepares to hike interest rates tomorrow evening. The feeling among forex traders is that the FED will increase interest rates again tomorrow but they will sound dovish, or I better say, less hawkish than in the previous months and probably slow down the pace of rate hikes next year, so the market is trying to anticipate that by selling the USD.
That has helped GOLD make a U-turn and get pretty bullish in the last two days. Gold tried to break above the major resistance area around $1,250 early last week, but it eventually turned bearish after failing to break the resistance and lost nearly $20.
I thought Gold was going to resume the bigger bearish trend that started early this year and push lower this week. But, the sentiment among forex traders that the FED will turn sort of dovish is ruining our plans and Gold has turned incredibly bullish this week as traders are running out of assets to place their money. The 100 SMA (green) did a good job providing support for Gold last Friday, damn it.
So, Gold is back at resistance. It was flirting with the $1,250 level in the last few hours, but it might be retreating lower now. It seems like this resistance might hold for now as the USD is finding a bit of a solid ground. EUR/USD reached 1.1402 a while ago.
The 1.14 level is a major resistance level for this pair so perhaps now that it has reached this level, the USD sellers might have a rest and the buyers might come back. That would reverse Gold at resistance once again, but that's just wishful thinking for now; let's see how it goes for the Buck from here on.