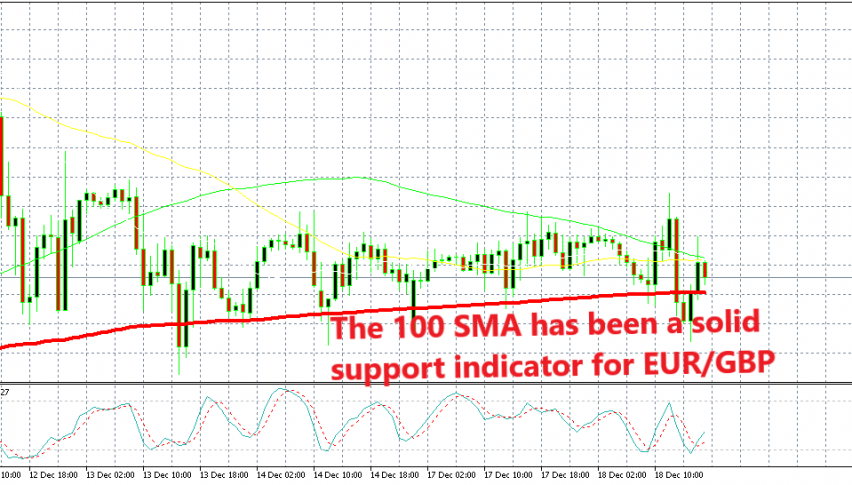 Using Moving Averages yo Go Long on EUR/GBP
Earlier on we went long on EUR/GBP as this pair was sliding lower during the European session. The trend has been bullish for this pair since the middle of November and it made another strong move higher last week, although this week it has traded mostly sideways with a slight bias toward the upside. After all, Brexit is coming, the UK is without a deal and the main trend is still bullish.
I was looking at the H1 chart which you can find above. On this time-frame, we can find the 100 SMA (red) which has provided support during the last four days. It bounced off this moving average earlier today and I decided to go long when the price returned back to it.
The price pierced the 100 SMA for a couple of hours but it returned back up above it and it is finding support again at this moving average right now. At some point, we were around 20 pips up with our buy forex signal.
The 50 SMA is still doing its work as support indicator
If we switch to the H4 chart, we can see that it has been the 50 SMA (yellow) which has been providing support to this pair since the middle of last week. The price as slipped below it but it's not too far. It jumped above it a while ago and now it is back below. The 50 SMA has provided suport the week before that and before that it used to be resistance, so this is a strong indicator for EUR/GBP.
Unless the price slips too far below it, then the support is still valid because these major moving averages have a surrounding zone around them. So, here we are long on EUR/GBP, although it is pretty difficult trading GBP pairs now.