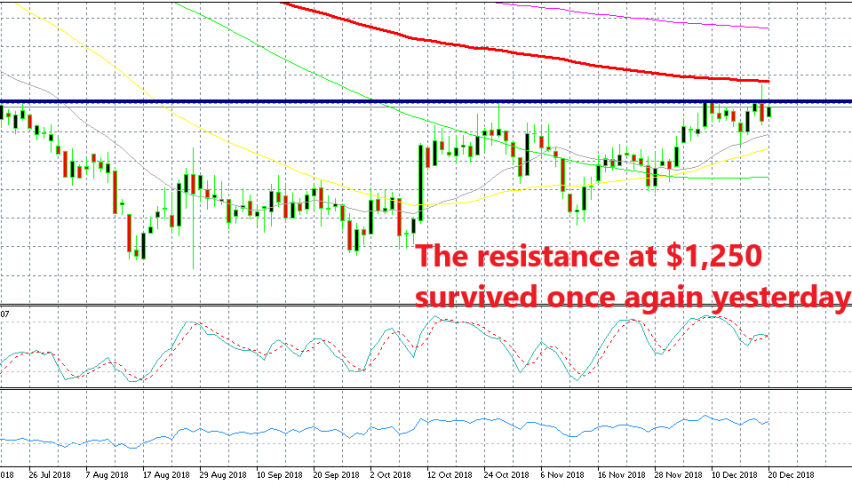 Gold Breaks Support But Reverses at 100 Daily SMA Before the FED
Yesterday, GOLD jumped around $10 higher when the US session opened. Some thought it was due to US traders entering the market and making a run for safe havens, but that wasn't the case because stock markets which are risky assets also climbed higher. So, it was more of a USD move because the USD went down against all the other asets and currencies.
But, the reason behind it might have been the Republican senators pushing towards a bill that won't allow for a government shutdown. As a result, Gold jumped nearly $10 from around $1,247 to $1,257. So, the big resistance area around the $1,250 level was finally broken, or better I say, pierced because the price returned down below it later in the evening.
It stopped right at the 100 SMA (red) on the daily chart. We opened a sell signal before the move because the resistance area was holding well again, but politics interfered with markets again and the resistance was pierced. Although, Gold started reversing before the FED meeting in the evening.
The FED sounded more dovish than the markets were expecting and the US Dollar received some decent bids, especially against Gold. Gold dived back below the resistance area and fell more than $15 from top to bottom. So, we left our signal in Gold in profit last night.
Gold bounced from the 100 SMA overnight
This morning I see that the USD has reversed back down. USD/JPY is leading the way but it is more of a broad USD selloff rather than a run for safe havens. Gold bounced off from the 100 SMA as you can see from the chart above. But now we are facing the resistance area once again. Let's see if Gold buyers will break it or whether Gold will reverse back down.