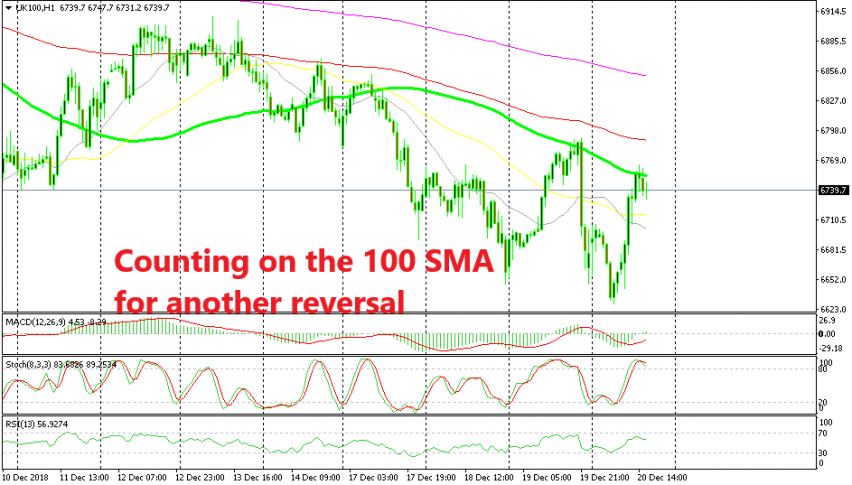 UK FTSE Offering A good Opportunity for Sellers
European stock markets have been on the declining for most of this year and at some points the US indices joined the rest of the globe on this downtrend. The Italian MIB has been leading the decline and the main reason for that decline lately has been the issue that the EU had with the deficit for next year's Italian budget.
That reason is off for now since Italian politicians agreed to lower the deficit to 2.04% from 2.4%. So, we are trying to pick a stock to sell today and the Italian MIB is out of scope. The other European stock markets looks a bit better as well since the issue with the Italian budget removed a big risk for the Eurozone and the future of the EU.
So, which index to pick now for selling? Well, the Brexit issue remains and it has been getting worse as we approach the end of the process. So, the UK stock market remains one of the riskiest assets. It retraced higher today during the European session but it ran into the 100 SMA (green) on the H1 chart.
The 100 SMA provided some strong resistance yesterday and the chart setup looks quite similar to yesterday. We have a retrace on the H1 chart and the price reaches the 100 SMA when stochastic becomes overbought, so everything looks set for another bearish reversal.
The candlestick from two periods ago closed as a doji right at the 100 SMA which is a reversing signal after the retrace higher. The following candle looks bearish so it seems like the bearish reversal is starting to unfold. For these reasons, we decided to open a sell forex signal in FTSE100 and now we hope that yesterday's price action unfolds again today.