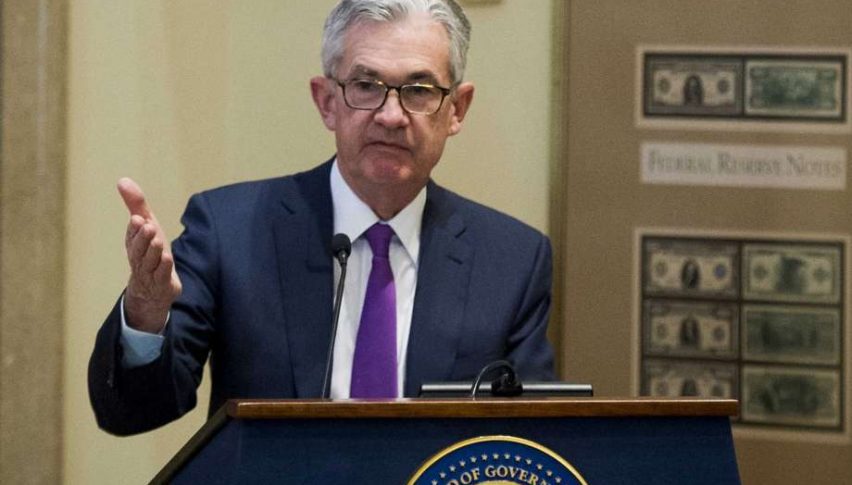 US Session Forex Brief, Dec 20 – Traders Trying to Figure Out Whether the FED was Hawkish or Dovish Yesterday
Yesterday, the FED held its last meeting for this year and probably the last speech as we are heading into the New Year and there's not much time left for further guidance. Christmas day is next Tuesday and the markets will be closed until Thursday. Then we have the New Year's day the Tuesday after, so the period in between will be pretty quiet since this is the time for official holidays. So, this was it for the FED this year, and the market is trying to figure out whether the FED turned dovish yesterday or not.
The market was expecting the FED to turn dovish and perhaps stall the interest rate hikes next year or reduce them to a minimum, hence the decline in the USD during this week leading to the meeting last evening. Today, things are not so clear and market participants are not so sure anymore.
Even the big names in this business have come up with different numbers regarding rate hikes from the FED next year. FED's Chairman Jerome Powell did say that the dot plot of voting FED members is lower now, meaning less hikes next year, but he added that dots show that the significant group in the FED still sees three rate hikes in 2019.
The FED saw economic growth this year above their expectations, but they are worried about global economic weakness which might affect the US economy as well next year. They sounded a bit worried about inflation as well, given the decline in crude Oil prices. So, that left the market wondering. At first, we saw a jump when Powell mentioned three rate hikes next year, but today we see that those doubt are back again.
Regarding the European session today, the UK retail sales posted a nice jump for November while the Bank of England left everything as it was, although they see increased risks from Brexit in the last few months.
The European Session
Eurozone Current Account – The current account for the Eurozone declined to 17 billion Euros in September from 24.3 billion in the previous month, which was revised higher to 17.6 billion today. October's report was expected to increase to 18.4 billion but instead it increased to 23 billion Euros, so back to the trend then.
UK Retail Sales, November – Retail sales had been declining during September and October in Britain. October's number was revised a tad higher though from -0.5% to -0.4%. The number for November was expected at 0.3% but today's report showed a 1.4% jump in sales. Although, we have to take into consideration Black Friday in November.
China to Buy More Soy Beans from the US – Apart from some clashes at the WTO, the trade war between the US and China is cooling off. The Chinese have bought two rounds of soybeans from the US and they announced that they will buy a third round today. That will come before Christmas likely and the order will be for 2 million tonnes of soybeans.
Bank of England Meeting – The BOE held their last meting today and they left interest rates at 0.75% as they were. The vote was unanimous but they have acknowledged that risks from Brexit have increased in the last three months. If Britain will crash out of the EU then they will surely change their tone and turn dovish quickly.
UK Realized CBI Sales – This indicator has shown that sales have been holding steady at around 20 points apart when it dived to just 5 points in October. Today, this indicator was expected at 16 points. down from 19 points last month, but it declined massively to -13 points.
The US Session
Canadian ADP Non-Farm Employment Change – In October, non-farm employment declined by 23k which was the first decline in several months, although it was revised higher today to 1.8k. Today's report showed that in November non-farm employment increased by 39.1k.
Canadian October Wholesale Sales – Wholesale sales have been declining three out of four times in the period from June to September. The nuber for September was revised even lower today, from -0.5% to -0.7%. In October, sales were expected to increase by 0.4% but instead they jumped 1.0% higher.
Philly FED Manufacturing Index – This manufacturing index has been declining from above 20 points. Last month it fell to 12.9 points. This month, it was expected to increase to 15.1 points, but instead it declined to 9.4 points. So, manufacturing is slowing down in the US.
US Unemployment Claims – The unemployment claims declined to 206k last month from their normal trend which was holding around the 230k region. Today, unemployment claims were expected to increase again to 216k but it increased to 214k.
Trades in Sight
The bigger trend is still bearish for GBP/USD
The retrace up is complete
The 100 SMA is providing resistance
The previous candlestick formed a hammer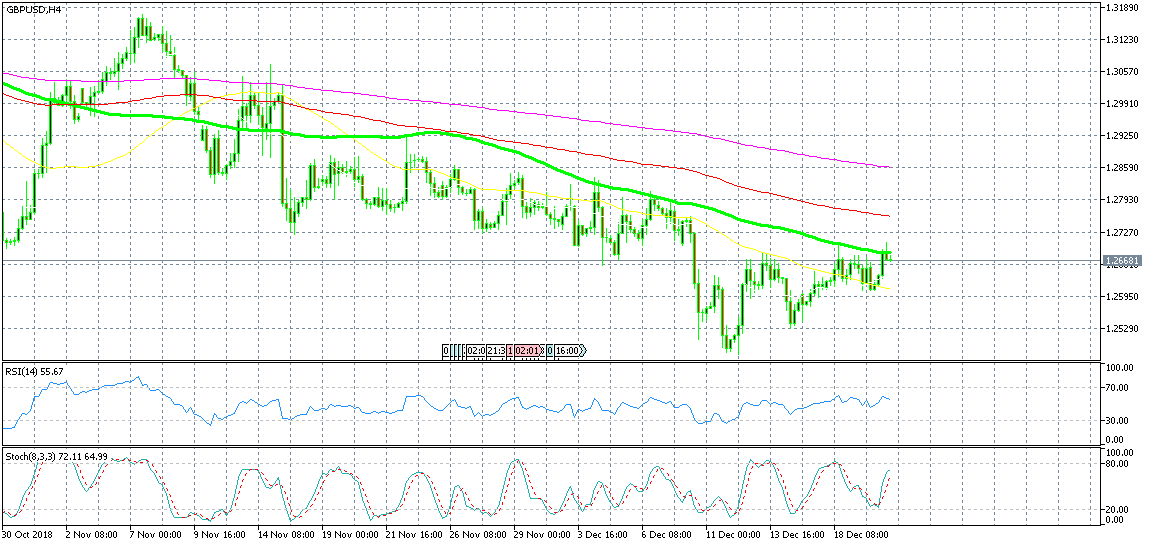 The 100 SMA has been providing solid resistance for quite some time
GBP/USD has been sort of bullish this week on the back of some USD weakness, but that move looks just like a retrace of the major downtrend. The retrace up is complete now though, as stochastic is almost overbought and the 100 SMA (green) is also providing resistance to this pair. It has been doing that for months now. Besides, the previous H4 candlestick has closed as a hammer which is a reversing signal after this retrace.
In Conclusion
The USD dollar was under pressure during the European session today as the market was trying to figure out yesterday's FED speech. But, it has been having second thoughts once again during the last few hours and the USD is making a comeback. Although that's not so sure; the downtrend might resume again, so we will watch the price action closely during the US session.