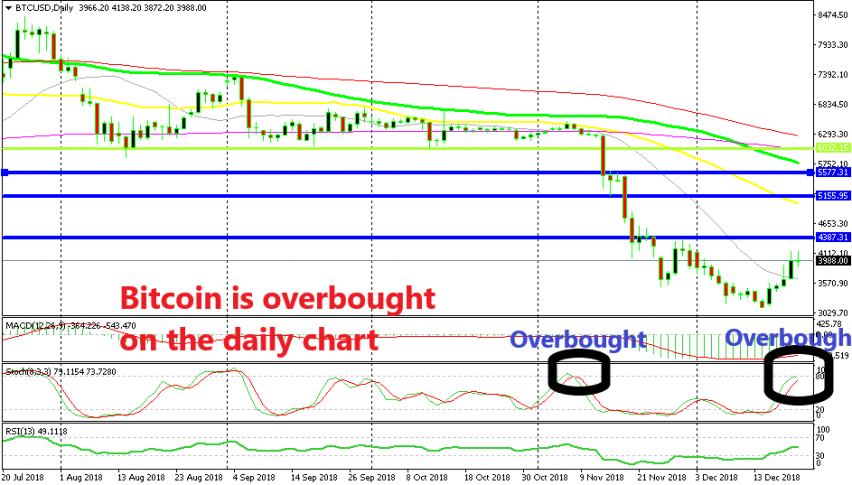 Bitcoin Becomes Overbought on the Daily Chart – Time to Sell?
BITCOIN buyers have finally put up a decent fight after a major bearish period. They haven't been able to form a decent retrace higher since the end of August where we can see the last proper retrace higher which was eventually capped by the 100 SMA (green).
After that last attempt to form a reversal, we haven't seen any sign of buyers. They did try to reverse the decline in late November as we saw Bitcoin bounce from the $3,500 level, but that was a pretty lame attempt since it fell short at $4,380 and then the decline resumed.
But, they finally came out this week and Bitcoin has bounced nearly $1,000 higher, from above the $3,000 level to above $4,000. The price moved above the 50 and the 100 SMAs on the H4 chart. But now we see that the stochastic indicator has become overbought on the daily chart.
Bitcoin has reversed down every time stochastic has become overbought and the last time it was overbought early in November, Bitcoin entered the next phase of he downtrend losing around half its value in a couple of weeks. So, there is a good chance that Bitcoin turns bearish again now that it has become overbought on this time-frame chart.
No one knows if the support at $3,000 will be broken this time if Bitcoin turns bearish but there are around $1,000 pips to be made until that level, even if that level doesn't break. So, the question for us is whether Bitcoin will reverse back down once again now.
Today's daily candlestick looks like a doji which is a reversing signal. If today's candlestick closes as a doji, then that would be a strong reversal indicator. So, we have to wait until tomorrow probably and then decide on this trade. The cryptocyrrency market is open during the weekend as well, by the way.