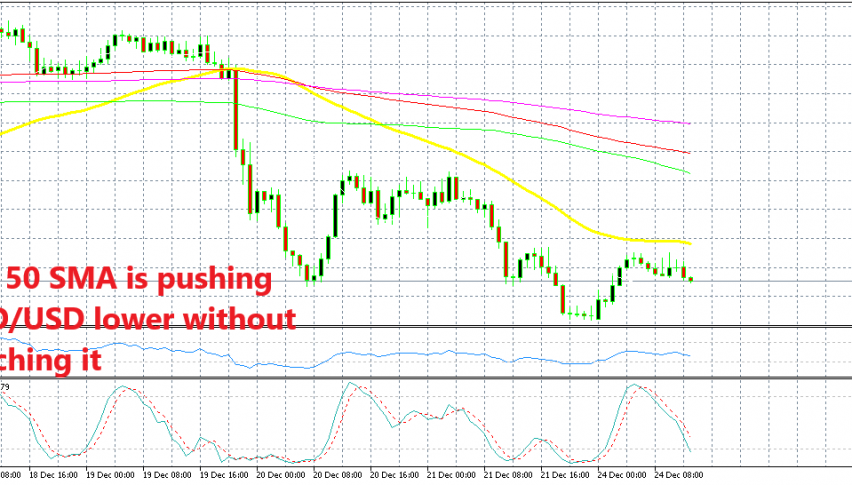 Shorting NZD/USD Before Christmas
Today is the last trading day before markets close for Christmas. We have had quite a nice run in the last several trading days, although we are hoping to get a few Christmas presents today from the market, and so we are playing the last few trade setups before the price action dies out as we head towards the US session which will be pretty short today.
One interesting chart setup appears in NZD/USD, both on hourly and H4 chart time-frames. As you can see from the H1 chart above, this forex pair has retraced higher overnight during the Asian session but the trend is still bearish, so retraces higher are a good opportunity to go short on NZD/UD, until the trend changes.
The retrace was complete on the H1 chart as the stochastic indicator became overbought a few hours ago and the price was close to the 50 SMA (yellow). This moving average has provided resistance to NZD/USD and last Friday, the price reversed just below it, more or less in the same scenario as the one unfolding today.
The 200 SMA should turn into resistance now that the price has broken below it
If we switch to the H4 chart, we see that this pair opened with a small bullish gap last night and it continued higher, but again, we see that this move is just a retrace of the bigger bearish trend. At the beginning of last week, the price first broke below the 100 SMA (red) and then it broke below the 200 SMA (purple).
Now we are trading below the 200 SMA which seems to have turned into resistance. The price formed two doji candlesticks which are reversing signals after the bullish retrace higher. So, the chart setup looks good for sellers on this time-frame as well and that's the reason we went short on NZD/USD. Now, we are waiting for our Christmas gift from NZD/USD, but it might not come until after Christmas when the markets open on Thursday.