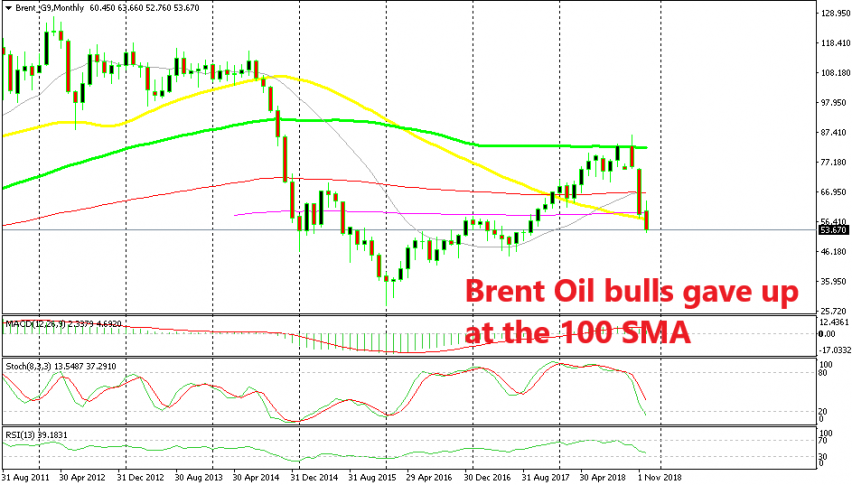 The Downside Is Wide Open For Oil Now
Crude Oil looks doomed now. It turned bearish early in October as the weakness in the global economy became evident after the economic data from many major economies continued to weaken for many months and as a result, the sentiment turned negative. Risk assets such as crude Oil turn bearish when the sentiment is negative in the markets.
The fundamentals coincided pretty well with  the technicals as UK Brent crude Oil was banging its head at the 100 SMA on the monthly chart, as you can see from the picture above. The buyers failed to break is even though they pierced it briefly and eventually gave up.
So, Oil turned bearish in October forming a big bearish candlestick that month after losing more than $11 from top to bottom. November was even worse and Brent crude lost nearly $20, breaking below all moving averages apart from the 20 SMA (yellow). But, the bearish trend stretched further below and the 50 SMA was finally broken early this month.
The 100 SMA was a really good place to sell Oil earlier this month
All the moving averages were broken in the monthly chart and if we switch to the weekly chart we see that moving averages are broken here as well. From what we can see in the weekly Brent crude chart above, the price retraced higher to the 100 SMA (green) this month and formed a big doji candlestick two weeks ago below that moving average.
That was a good sign to go short on Oil because dojis are reversing signals after a retrace higher, especially when the price is on a downtrend. But, we missed that opportunity and now Brent crude is about $10 lower, which means around 1,000. Well, that opportunity is gone but Oil will surely retrace higher again because trends don't go in one direction without a refreshing now and again, so once Oil retraces higher, we will look to sell it.
I hope that we see another retrace to the 100 SMA which would be perfect for sellers since stochastic would be overbought by then, judging by the big space between the price and the 100 SMA. Although, everything seems bearish for Oil now that all moving averages and support levels have been broken. Besides, OPEC+ doesn't seem to be able to cut production by 1.2 million barrels/day as promised, which is another bearish event for Oil, so we will have to wait until after New Year for a retrace higher.