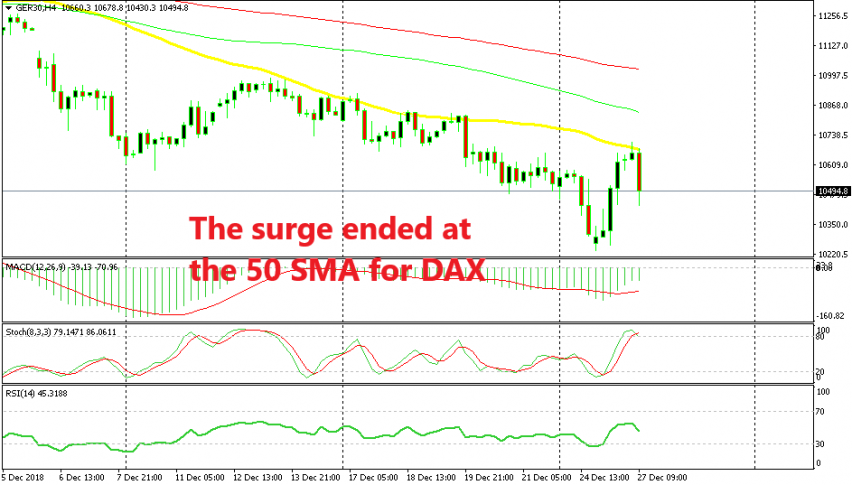 Making Some Good Pips After the Surge in Stocks Fainted
Yesterday we saw a massive surge in risk assets such as the stock markets and Crude Oil. UK Brent crude surged more than $5 higher, from above $50 to $55.25 according to my broker's feed. Indices also surged higher, with the Japanese Nikkei climbing 1,000 pips higher. There was no real reason behind that move, apart from the thin liquidity in year-end markets, so it was a bit of a fake move, that's why we thought that it was a great opportunity to go short and end the year with some nice profit.
I saw the surge in the evening because I was off for Christmas the last two days, so I opened a sell signal in Nikkei last night and woke up this morning with the signal around 200 pips in profit. I closed that signal manually, but if you are still in that trade, you must be sitting in more than 300 pips of profit.
After closing that signal and securing the profit there, I decided to give the German Dax a try. The technical picture looked pretty good for sellers. Dax had reached the 50 SMA (yellow) on the H4 chart. This moving average had been providing solid resistance in the previous two weeks, reversing the price lower every time the buyers reached that moving average.
The trend has been bearish for stock for months and for European indices in particular, so the main trend is bearish for Dax, despite the surge yesterday. Besides that, the previous H4 candlestick closed as an upside-down hammer which is a reversing signal.
So, we went short on Dax about two hours ago and now we are sitting in more than 100 pip profit. I am following the price action closely and will probably close this signal manually as well, although let's see if we can squeeze some more pips from this trade, but we shouldn't be too greedy either.