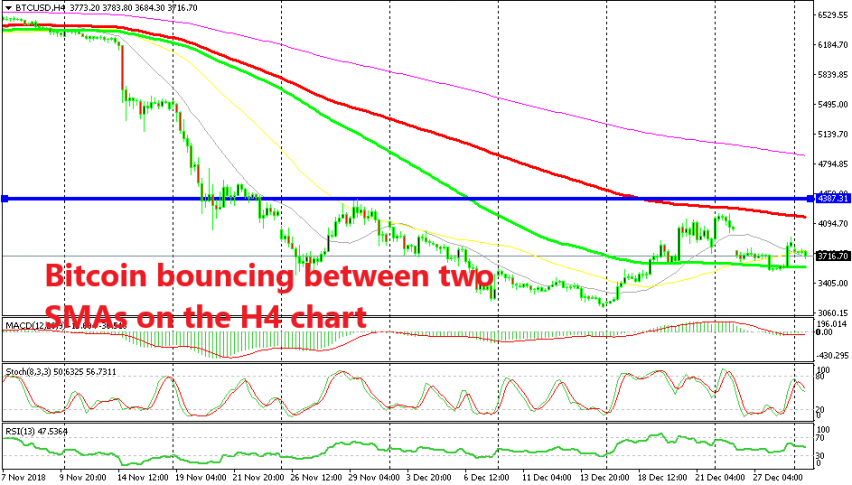 Bitcoin Still Trading Between Two 100 SMAs
Cryptocurrencies finally made a bullish reversal on Monday two weeks ago after a terrible year for them and they continued higher during that week. BITCOIN bounced above the $3,000 level which seems to be the new challenge for sellers now, so that has become the ultimate support area for this altocin.
The price broke above the 100 simple moving average (green) without much trouble that week and the 100 simple MA turned into support right away as you can see from the H4 chart above. The buyers continued to push higher that week reaching as high as $4,211 on my platform.
But, the other 100 SMA provided resistance on the top side. The 100 smooth moving average red turned into resistance and Bitcoin buyers finally gave up right below that moving average. We saw a bearish gap last week after the Christmas period and the sellers gave it another push lower to $3,547 lat week.
But, the 100 simple MA which provided support the previous week held its ground again. So now, it has been confirmed as a support indicator for Bitcoin. Bitcoin jumped around $400 higher from the 100 simple MA late last week but it is slowly slipping lower. So, we have the 100 simple MA at the bottom and the 100 smooth MA at the top.
Bitcoin is trading between these two moving averages now and the logic tells you that whichever moving average goes first will set the direction for Bitcoin after that. If the bottom moving average which stands at around $3,600 goes, then the target will be the low at $3,000. Otherwise, if the top moving average goes, then the target is the $5,000 level. Until then, we can trade the range between these two indicators.