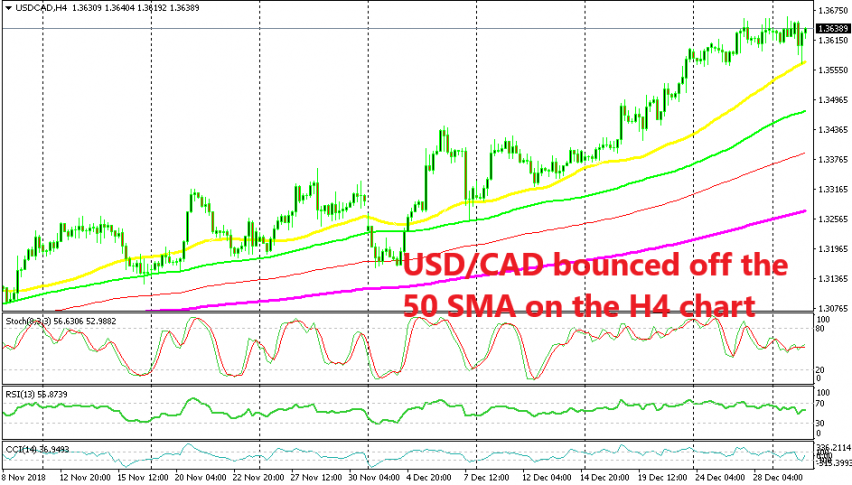 50 SMA Keeping the Uptrend in Place for USD/CAD
USD/CAD has been on an uptrend during the last three months since Oil turned bearish. The downtrend in crude oil prices has been picking up pace, dragging the CAD lower with it, so the uptrend in USD/CAD has picked up pace as well.
You can distinguish that the uptrend is picking up pace from the moving averages. During November, the 100 SMA (green) used to provide resistance to this pair during the dips, but in December the 50 SMA (yellow) took its place in supporting the price during the dips, thus keeping the uptrend in place.
Early this morning, USD/CAD dipped around 80 pips during the Asian session as the USD went through another phase of weakness, probably it was just some position adjustment after the New Year's day as Asian traders entered resumed trading.
But, the 50 SMA stood strong once again. It held its ground during the decline and the slide stopped exactly to the pip. The 50 SMA stood at 1.3568 and the low for this pair this morning was right at that price. Now the price has reversed up as USD buyers jumped in and we find this pair around 70 pips higher.
That was a good opportunity to go long but the reverse happened before I started my day so we missed it. But, we will keep this moving average in mind if we see another dip down on USD/CAD and probably make some nice profit off this moving average.