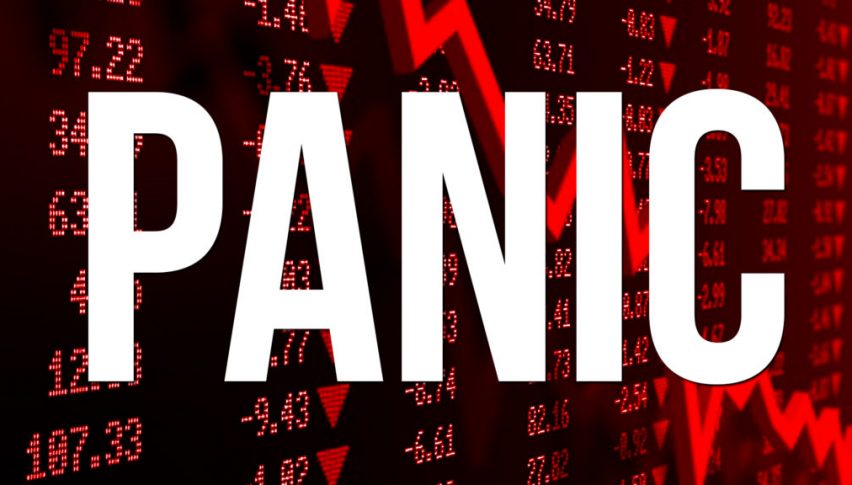 US Session Forex Brief, Jan 3 – Markets Calm Down After the Storm
Last night, the financial markets went through a small crash. It was surprising to wake up and see that GBP/USD had dived 150 pips lower, AUD/USD had lost more than 250 pips while the champion, USD/JPY had crashed nearly 5 cents lower. European stock markets opened with a bearish gap lower, so something had happened during the night.
I went through the coverage of my Aussie colleague Rowan who covers the Asian session and saw that Apple had downgraded its revenue guidance for Q1. Apple pointed the finger at China and its economy for this downgrade in expectations. Not that they are wrong, because the growth of the Chinese economy has slowed considerably this year, but that rumor alone wouldn't have sent the markets crashing. Thin liquidity on holiday markets is to blame for that move, as well as some large stops being triggered on the way down.
AUD/USD crashed because the Australian economy is heavily dependent on exports to China while the JPY surged as a last place to hide for forex traders since it is the ultimate safe haven. I bet the guys at the Bank of Japan must be having headaches now. They try to fix the economy and weaken the Yen to help them along, but this is out of their hands. Probably we will hear from them soon, so keep an ear on the BOJ.
The European Session
Swiss Manufacturing PMI – The manufacturing sector cooled off in Switzerland in September and October, but it resumed the bullish trend again in November as December's report showed. Today's report was expected to cool off to 57.0 points, but it beat expectations again coming at 57.7 points against 57.0 expected.
Eurozone M3 Money Supply – The M3 money supply, which represents the change in the total quantity of domestic currency in circulation and deposited in banks, jumped higher to 3.9% in October. Today's report which is for November was expected to tick down to 3.8%, but it came at 3.7%.
Eurozone Private Loans YoY – Private loans have been increasing in the Eurozone from 2.9% in July to 3.2% in November. Today's number which is for November was expected to increase again to 3.3% and it came in line with expectations. So, private lending seems on the right path in Europe.
UK Construction PMI – The construction sector has been holding up well in the UK, better than the other sectors. Although, the construction PMI was expected to cool off today to 52.9 points from 53.4 points previously. It missed expectations slightly coming at 52.8 points.
No More Brexit Meeting, Says the EU – This was the headline from the European Commission spokesperson Mina Andreeva. She added that the current Brexit deal is the best one and the only one possible, Brexit will not be renegotiated and it is now up to the British people and the British Parliament to decide. So, no concession for Theresa May then.
The US Session
US Challenger Job Cuts YoY – Last month, the challenger job cuts declined to 51.5%, down from a massive 153.6% in the previous month. Today, the number of challenger job cuts for December declined further, coming at 35.3%, so the trend is declining for this indicator.
US MBA Mortgage Applications – MBA mortgage applications declined by 8.5% during the week ending on December 28 after the 1.4% decline in the previous week. the purchase index came lower at 219 points from 236.9 points previously, Market index declined to 293.8 points from 321.2 in the prior week and the refinancing index fell to 729.9 points, down from 816.0 points.
Kaplan Is Not Thinking About Rate Cuts – FED's Kaplan said in an interview earlier that the question of rate cut has not entered his mind. Inflation is not running away from the US, he added, and what FED does in 2019 will be more significant than the actions in 2018.
US ADP Non-Farm Employment Change – ADP non-farm employment change declined to 179k in November and today's number for December was expected to remain the same. Although, it posted a surprising jump to 271k. This is the biggest increase in nearly two years.
US Unemployment Claims – US unemployment claims came at 216k last week, but it was revised higher to 221k today. The unemployment claims were expected to come at 220k this week, but they increased again to 231k.
US ISM Manufacturing PMI – The manufacturing sector has been in a pretty good shape in the US. Last month, this index beat expectations coming at 59.3 points against 57.5 points expected.  Today, the manufacturing PMI index is expected to cool off to 57.7 points, which is very good nonetheless.
Trades in Sight
The trend has been bearish for 2 weeks
The retrace higher is complete
The 50 SMA is providing resistance
The 50 SMA (grey) is providing resistance
A while ago, we went short on EUR/CHF. The market sentiment has turned negative again yesterday which has sent the CHF higher and EUR/CHF lower. This forex pair has been on a bearish trend in the last two weeks and the trend picked up pace yesterday as the pair slipped lower. Although it has retraced higher during the European session, the 50 SMA is providing resistance on the H1 chart. The retrace higher is complete now that stochastic is overbought, so perhaps the bearish trend will resume soon.
In Conclusion
So, another flash crash in financial markets last night, but things have calmed down now. This has ruined trading for now since most majors forex pairs are just trading the aftermath of that and not the real fundamentals and technical setups. At least, we haven't been caught on the wrong side during that major move, but we have been careful picking trades and will be careful until this storm is totally dead.