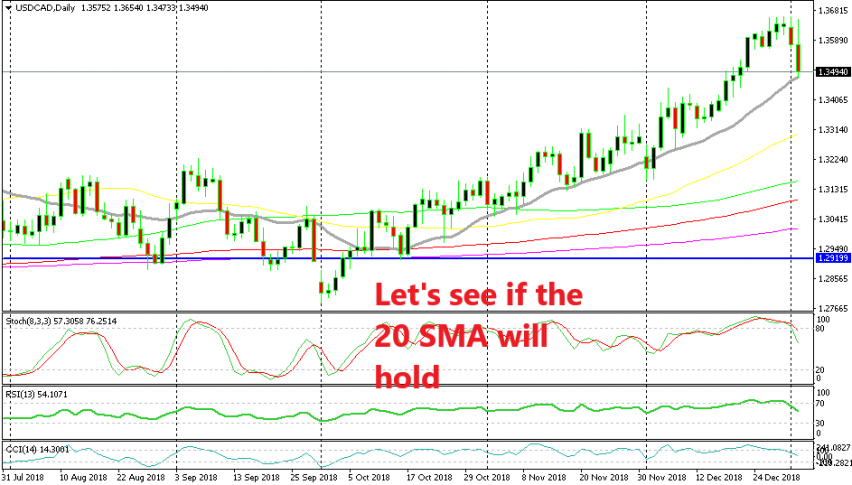 USD/CAD Continues to Slip Lower As Oil Prices Recuperate, But It might Reverse Higher From Here
The Canadian Dollar has been on a steep decline in the last three months and the decline has only became steeper with time. The main reason for this decline in the CAD and has been the decline in Oil prices. During this time, USD/CAD has climbed nearly 9 cents from the bottom in early October until in the last few days.
But, on the 26th, Oil surged nearly $5 higher on thin liquidity during the Boxing Day. Oil continues to recuperate, albeit slowly. The CAD on the other hand is climbing pretty fast, particularly today. We saw this pair jump lat night and we got some nice pips from it with a buy forex signal, but today it has turned really bearish.
Although, Oil has declined nearly $2 in the last 2-3 hours, yet the CAD seems unfazed as USD/CAD continues to fall. USD/CAD has declined around 170 pips just today. It broke the 20 SMA (grey) on the H4 chart which has been keeping the uptrend in place in the previous two weeks. It broke the 50 SMA (yellow) again, but the 100 SMA (green) is holding for now.
The 100 SMA is holding foe now after the other 2 MAs have been broken
The 100 SMA on the H4 chart comes at 1.3480 ore or less and if we switch to the daily chart, we can see that the 20 SMA (grey) comes at around the same place. So, this is a support level for USD/CAD now. Can this pair reverse higher from here and resume the uptrend? It could, but as we said the CAD has been gaining today while Oil is more or less unchanged on the day. So, it is a bit dangerous going long now. If Oil turns bullish, the CAD will become even more so.