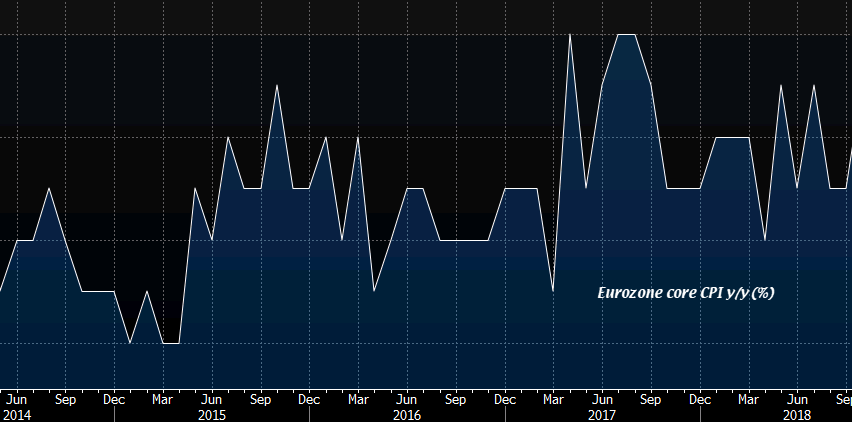 Inflation Cools off Further in Europe
Today during the European session we had the services and the Inflation numbers, while in the US session, the Canadian and the US employment report will be released. The Eurozone inflation report in November showed a 0.2% decline in inflation, from 2.2% to 2.0% which is the minimum target for the European Central Bank.
Today, the headline CPI (consumer price index) inflation was expected to cool off further to 1.8%, but it cooled off more than that. Although, the annualized core inflation number didn't decline and remained at 1.0%, which again is the minimum target for the ECB. Let's have a look at the numbers below:
| | | | |
| --- | --- | --- | --- |
| | Actual | Expected | Previous |
| Eurozone CPI Headline YoY | 1.6% | 1.8% | 2.0% |
| Eurozone CPI Core YoY | 1.0% | 1.0% | 1.0% |
| Eurozone PPI MoM | -0.3% | -0.2% | 0.8% |
| Italian CPI Prelim MoM | -0.1% | 0.1% | -0.2% |
As you can see from the table above, all actual numbers are below expectations except for the core CPI YoY. The core CPI number is the most important but the headline CPI is also pretty important for the ECB. The services report released earlier from the Eurozone leaned on the soft side as well, so the ECB is taking notice.
Cooling economy as well as cooling inflation is a pretty toxic mix, so the ECB should start sounding increasingly dovish now. This should be bearish for the Euro but the ECB is a bit stubborn. Although, we will have to see what their take is on inflation and growth and if the dovish rhetoric increases, then the Euro will be doomed.