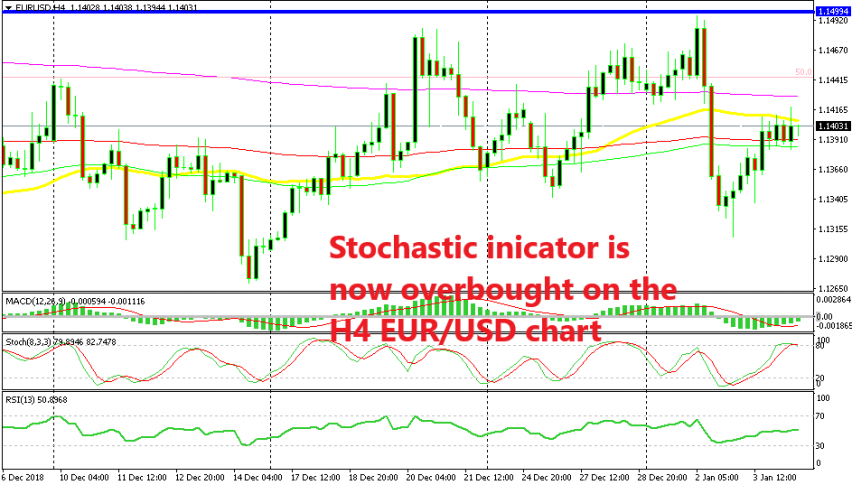 Trying A Sell Trade in EUR/USD As the Retrace Up Seems Complete
EUR/USD made a bearish reversal on Wednesday after New Year's day. It reversed a few pips below 1.15 and lost nearly 200 pips on the way down, but the support level at 1.13 held its ground once again yesterday despite the flash crash that took place in Early Asian session.
Since then, it has been retracing higher and climbed to 114.10 yesterday. I thought of going short yesterday after that retrace higher, but the retrace wasn't complete on the H4 chart as you can see above, so I though that it would be better to wait for it to complete today and then decide what to do.
So, I waited and EUR/USD pushed a bit higher this morning to 1.1420. But, the buyers were unable to break the 50 SMA (yellow) on the H4 chart as you an see above. That moving average has been providing support and resistance lately and it is keeping this pair contained on the upside, so it seems like it's a good time to go short. Besides, the stochastic indicator is now overbought which means that the retrace is complete.
The 100 SMA is providing resistance on the H1 chart
If  we switch to the H1 chart, we see that it's the 100 SMA (green) which is providing resistance here. The last two H1 candlesticks formed a doji and an upside-down hammer which are reversing signals, so both charts are pointing to a bearish reversal soon, hence our sell signal a while ago. The area around 1.1400-20 is a resistance zone as well by the way, so EUR/USD should normally reverse down fro here.