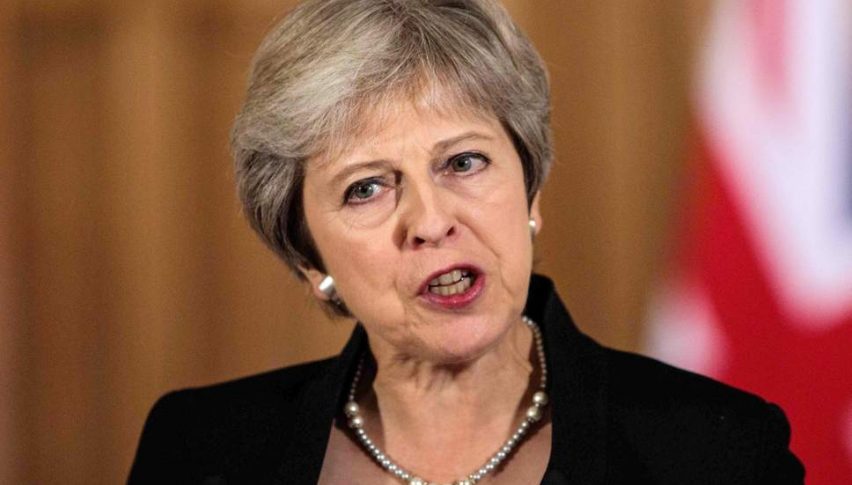 US Session Forex Brief, Jan 7 – Theresa May prepares for No-Deal Brexit
Markets today have been really quiet with EUR/USD the biggest mover, climbing around 50 pips, which is a shadow of a move compared to what we have seen recently. But the liquidity is back to normal now, so finally the spikes we witnessed in the last two weeks are finally over. We had a round of economic date from the Eurozone this morning and although it might seem as positive in first sight, it was mostly negative, once again.
Factory orders declined by 1.0% in Germany Black Friday must have had some impact on sales. Retail sales also came out higher in Europe, but that number should be affected by the German retail sales though. The investor confidence declined in Europe, coming negative for the second month, so things are deteriorating in the Eurozone. Although, the Euro is totally ignoring that fact. The surveying firm Sentix said that all the data shows that Europe is close to stagnation and the ECCB as well as politicians are ignoring it.
The UK seems to be heading out of the EU without a Brexit deal once again, unless there is a last minute miracle. The opposition Labour Party called for Theresa May to make an urgent call and she appeared in the British Parliament saying that the Parliament vote will be next week on January 24. She added that she is still seeking further assurance from the EU but that is not coming. So, May is setting up a committee to prepare for a no-deal Brexit.
The European Session
German Construction PMI – The German construction PMI for November was at 51.3 points but the number for December came at 53. points. Markit said that the housing activity increased in December and new orders also raised faster than expected.
German Factory Orders – The factory orders for November on the other hand posted a big decline of 1.0%. They were expected to decline by 0.2%, but the decline was bigger and now factory orders are back in the negative trend after being positive for three months.
German Retail Sales – Retail sales posted a nice jump in November. They have been missing expectations in the previous four months and in three months they declined, but today they posted a nice 1.4% jump higher which is the number for November.
Eurozone Sentix Investor Confidence – The investor confidence has been declining in Europe and last month it fell into negative territory. This month was supposed to get worse and it did, coming at -1.5 points against -2.0 points expected. It seems like the Eurozone economy is heading toward stagnation as Sentix noted.
Eurozone Retail Sales – Retail sales have also been very weak in the Eurozone, although they made a turnaround in October increasing by 0.3%, which was revised higher to 0.6% today. Today's report which was for November ws expected to show a 0.2% increase that month, but sales increased once again by 0.6%.
China Trying to Resolve Things With the US – The UK services PMI index has been declining constantly and in November it fell to 50.4 points which means almost flat. The report released today was anticipating an increase to 50.7 points but it increased further to 51.2 points. Chinese Foreign Ministry spokesperson said that China is still trying to resolve trade disputes with US on an equal footing.
No Renegotiation of the Brexit deal – The spokesman for the European Commission commented ealrier today that Brexit deal will not be renegotiated and the deal on the table is the best and only one possible. He added that the EU will continue to implement no-contingency plan, which suggests that we'll end up with no Brexit deal.
Brexit in the UK – The UK opposition Party asked for Theresa May to make an urgent call in the Parliament today and she did. She's still hoping for more legal assurance on the Irish backstop from the EU and will present the deal to the British Parliament Next Monday. But at the same time, she is preparing for a no-deal Brexit and is forming a committee to take care of it.
The US Session
Wilbur Ross Speaks on China – US Commerce Secretary Wilbur Ross commented on CNBC a while ago on the China issue saying that the real issue is the enforcement on the promises that China made. He said that there is a real good chance of a good settlement with China but the problem is the structural issues.
Canadian Ivey PMI – The Canadian Ivey PMI which is a level of a diffusion index based on surveyed purchasing managers is at a good place at 57.2 points. Although it has been on a declining trend for several months, today's number is expected to come at 58.1 points which would stop the declining trend at least.
US ISM Non-Manufacturing PMI – The US ISM non-manufacturing PMI is expected to cool off a bit to 59.6 points today from 60.7 points previously. This is the reading for December and despite the cool off expected, this indicator is at a very good place. But, there might be a negative surprise today after the softening of the manufacturing sector we saw last Friday.
Trades in Sight
The trend has been bearish for 5 weeks now
The retrace higher is complete on the H4 chart
The 100 SMAs are providing resistance
The last 2 candlesticks point to a reversal
The 100 SMAs are providing resistance
We went short on NZD/USD earlier today as this forex pair looks set for a bearish reversal. It has been on a bearish trend for the last five weeks but it has retraced higher. Although the retrace looks exhausted on the H4 chart sine this pair hasn't been making new highs in the last several hours. The 100 simple MA (green) and the 100 SMA (red) are providing resistance. Besides, the last two H4 candlesticks looks like upside-down pins which are reversing signals, so the reverse should come soon.
In Conclusion
We are waiting on the NZD/USD reversal but it won't come before the US ISM non-manufacturing PMI report gets released in a few minutes. The USD seems a bit soft today but it might change after this report which we will cover on our economic calendar soon, so have a look at the calendar to see an interpretation of this report.