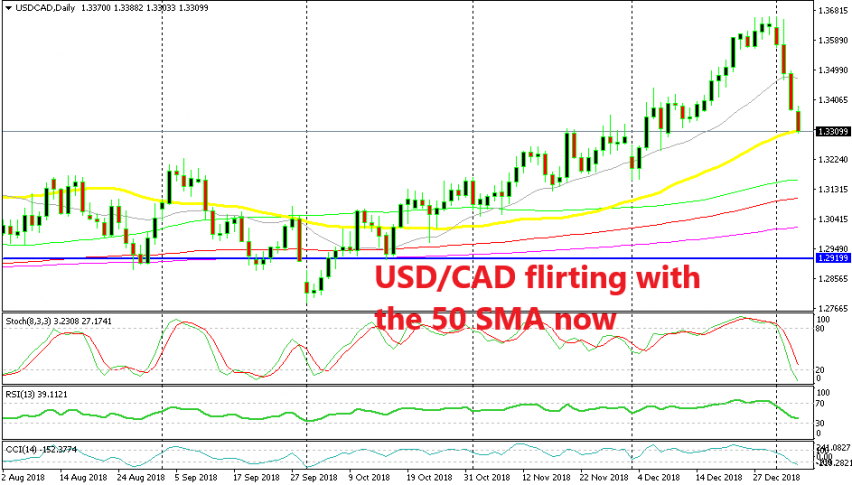 USD/CAD Continues the Decline As Oil Climbs Higher
USD/CAD made a bearish reversal last week. Oil prices have formed a bullish reversal in the last two weeks and on the 26th on the Boxing Day crude Oil surged nearly $5 higher, but the CAD didn't rip any of the benefits from that jump since the forex market was still closed that day.
But, the CAD is trying to catch up with Oil now. On Thursday last week, USD/CAD lost around 200 pips as the CAD started to reverse higher and the decline is continuing today as well as this pair has lost around 70 pips from top to bottom.
The price in this pair broke the 20 SMA (grey) on the daily chart which had been keeping the uptrend in place in the last two months. Now the 50 SMA (yellow) is also under danger. The moving averages on he H4 chart were broken without much resistance during this time.
Oil continued to run higher with WTI crude heading towards the $50 level, so the downtrend for USD/CAD is strong for now and it has Oil to back it up. But, Oil might make a reversal at the $50 level. USD/CAD is trading above the 1.33 level where we can also find the 50 SMA, so this area is a strong support zone, although the decline has been too fast to go against it. I think that it might be safer to trade Oil right now and I might give it a go with a sell signal around the $50 level.