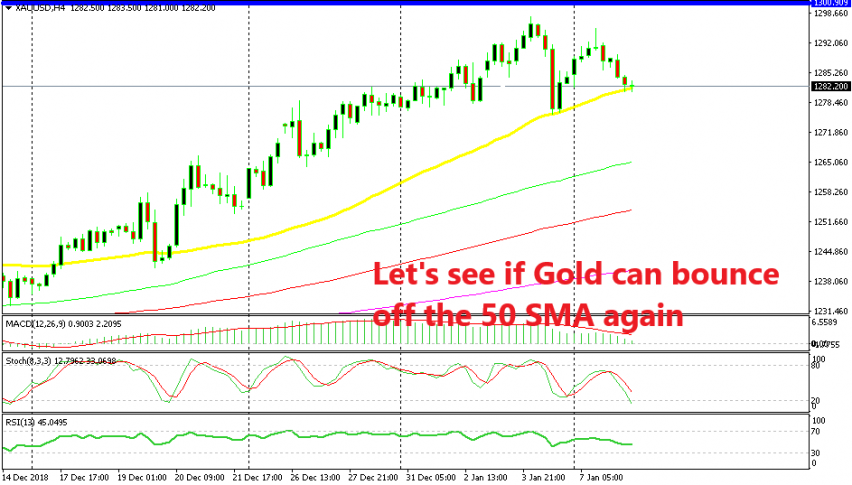 Gold Forms a Bearish Reversing Setup
As I mentioned in the previous forex update, safe havens have received some decent bids during the holiday season as the sentiment turned negative during this time. GOLD and the JPY surged higher. USD/JPY broke below the 105 level while Gold headed for the big level at $1,300.
But, Gold fell short last Friday, reversing at $1,298. Gold lost more that $20 that day, but it stopped right at the 50 SMA (yellow) on the H4 chart as you can see above. Stochastic became oversold and Gold bounced off that moving average and climbed nearly $20 again.
But, it reversed lower again yesterday after forming an upside-down pin on the H4 chart. My colleague Arslan, who is in charge of commodities, opened a sell signal in Gold yesterday which closed in profit, so we got some pips off that chart setup.
Judging by this chart setup, we think that Gold might make a bigger bearish reversal. It failed to break the $1,300 level last Friday which is a big resistance zone and it failed to make new highs yesterday. Lower highs means that the buyers are giving up on the top side and sellers are jumping in earlier each time, so this is the sort of price action before the next bearish move.
Although, today Gold is facing the 50 SMA again. Stochastic is oversold again now and there is good chance that we might see another bounce from here. But, I will follow the price action closely and if Gold can't make new highs, then that would be the ultimate signal to sell Gold. But, let's see first if Gold can bounce from here.