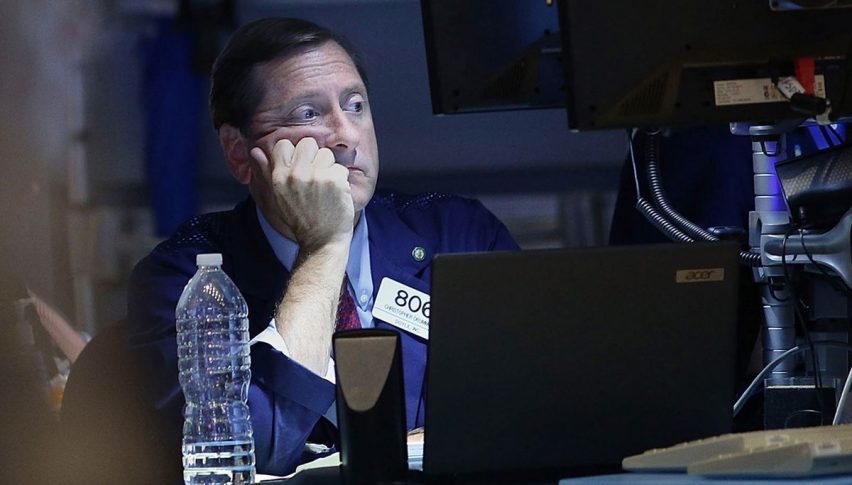 US Session Forex Brief, Jan 8 – A Really Quiet Day in Forex
Yesterday it was very quiet in the forex market but today it has been even more quiet. The US Dollar is slightly in demand but that's about all because most forex majors have barely moved. After the volatility during the holiday season in the previous two weeks, I thought that markets would continue to trade like that now that all forex traders are back from holidays. But, it's really quiet in forex.
It seems like traders are waiting for something to ignite the markets. It might come tomorrow since we have  number of central bank events tomorrow. It starts with Donald Trump holding a speech early in the morning tomorrow, followed up by the Bank of Canada meeting and rate decision. They are expected to increase interest rated tomorrow, so be careful trading the CAD until then. Then in the evening we have the FOMC minutes form the last meeting. So perhaps, these events will get us moving tomorrow.
At least, there was the usual Brexit rhetoric to keep us entertained today. There were rumours from the French Minister of European Affairs that Theresa May and Emanuel Macron discussed extending Article 50 during the holidays and later we heard the Irish Foreign Minister say that if if the UK asks for an extension of Article 50, then Ireland won't get in the way. So, it seems that Britain might extend it, given that the British politicians don't like the Irish backstop of the current deal. Donald Trump also tweeted a while ago about interest rates, and the trade report came put, suggesting that there might be a trade deal between US and China which sent stock markets a bit higher.
The European Session
German Industrial Production – The German industrial production has been negative in the last several months besides September. In October industrial production declined by 0.5% which was revised lower today to -0.8%. Production for November was expected to increase by 0.3% but instead it declined by a massive 1.9%. That's a terrible number and seems like the German economy is softening in similar fashion to the rest of the Eurozone.
Swiss Retail Sales – Retail sales were expected to decline by 0.7% in Switzerland in November but they declined by 0.5%. Although, the number for October was revised higher to 1.0% from 0.8% previously.
French Trade Balance – Trade deficit shrank in October to -4.1 billion Euros but increased again today. It was expected to come at -4.9 billion, but it came at -5.1 billion which is the normal range.
UK Halifax HPI MoM – The Halifax house price index declined by 1.4% in November which was revised lower today to 1.2%. This index for December was expected to come at 0.5%, but the Halifax HPI increased by 2.2%.
French Foreing Minister Suggests to An Extension of Article 50 – Nathalie Loiseau said this morning that French President Macron and the UK Prime Minister Theresa May had a conversation during Christmas suggesting that Britain might ask to extend Article 50. She added that putting some love letter on top of the deal won't give the UK legal assurances and the EU can't do that.
Ireland Is Fine With the Extension – The Irish Foreign Minister Simon Coveney commented earlier today that Ireland won't stand in the way of UK extending Article 50 if they ask for it, but it has to go through the EU first. Seems like everyone is thinking about an extension.
January 15 as Date for Brexit Vote – UK PM spokesperson James Slack said that the date is still subject to parliament approval and May is still seeking assurances on backstop. If there are assurances on Brexit deal, important that lawmakers are made aware of them before the vote but I don't think there will be any assurances.
The US Session
Donald Trump Is Happy About the US Economy – US President Donald Trump tweeted today about the economy. Here it is: Economic numbers looking REALLY good. Can you imagine if I had long term ZERO interest rates to play with like the past administration, rather than the rapidly raised normalized rates we have today. That would have been SO EASY! Still, markets up BIG since 2016 Election!
Trump on China – Trump tweeted again "Talks with China are going very well!". US-China trade talks were extended to a third day tomorrow. That's a sign that officials are committed to hammering out a deal. That improved the sentiment for a minute and stock markets climbed around 100 pips higher on those rumours.
Canadian Trade Balance – The trade deficit for October was revised lower to -0.9 billion CAD. The trade balance for November was expected to come at -2.1 billion and it came right on expectations, so the Canadian economy is taking it from all sides.
US JOLTS Jobs Openings – The U JOLTS job opening have been holding up well above 7 million in the last three months leading to November. Today number which is for November was expected to remain in the same range, but it missed expectations of 7.07 million new jobs coming at 6.89 million.
Trades in Sight
The trend has turned really bearish
The retrace higher is almost complete on the H1 chart
The 50 SMA is standing above
The 50 SMA is waiting to providing resistance
USD/CAD has turned bearish in the last four trading days as crude Oil reversed higher and the downtrend looks very steep. This pair has lost around $4 in four days. Although, it has put up a retrace today. The price has broken above the 20 SMA (grey) on the H1 chart, but we have the 50 SMA (yellow) standing around 30 pips higher. So, I think that the 50 SMA is a good place to go short on USD/CAD since stochastic is almost overbought as well.
In Conclusion
We went short on the Nikkei225 earlier today as stock markets were climbing higher. This climb looks more like a retrace of the bigger downtrend and technicals are on our side, so we are holding on to this signal as we are seeing the beginning of a bearish reversal now. Hopefully, we will make some nice pips from it, quite a lot actually, but let's not get ahead of ourselves.