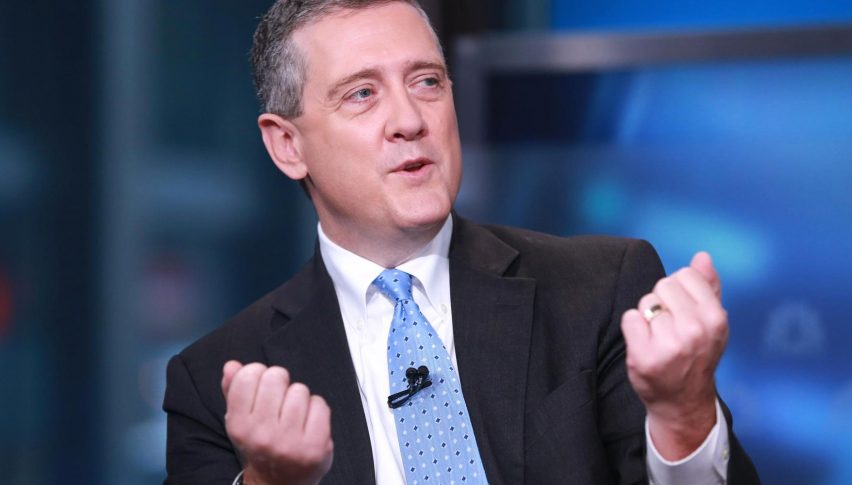 FED's Bullard Sounding Pretty Dovish
The Saint Louis FED Chairman James Bullard was speaking a while ago and the headline of that speech seemed really dovish for the Buck. The main comment was that interest rates are in the right place now and no more rate hikes are warranted. So, no more hikes for Bullard. Here are the rest of the comments from him:
Markets have predicted Fed policy better than officials themselves
Fed bordering on "going too far" and pushing economy into a recession
If economy unexpectedly weakens, would be open to rate cuts
Fed has done enough hikes to preempt any potential inflation rise
Bond market continues to warn Fed policy is too tight
Expects economy to moderate to 2.25% to 2.50% growth this year
Not worried about asset markets, more volatility is a return to normal
So, the whole speech sound pretty dovish. He also mentions rate cuts if the economy turns the tail and heads south, which doesn't look likely. Although the global economy is in trouble, so that might affect the US economy as the year progresses.
He also mentioned the inverse in Treasury yields as the interest for the 10 year and 2 year bonds continues to narrow, which is a sign of a possible recession coming up. The USD lost around 20 pips on his comments, but the market is not running away with it because the FOMC meeting minutes will be released this evening and forex traders will get a better chance to see for themselves where the FED stands right now regarding interest rates.