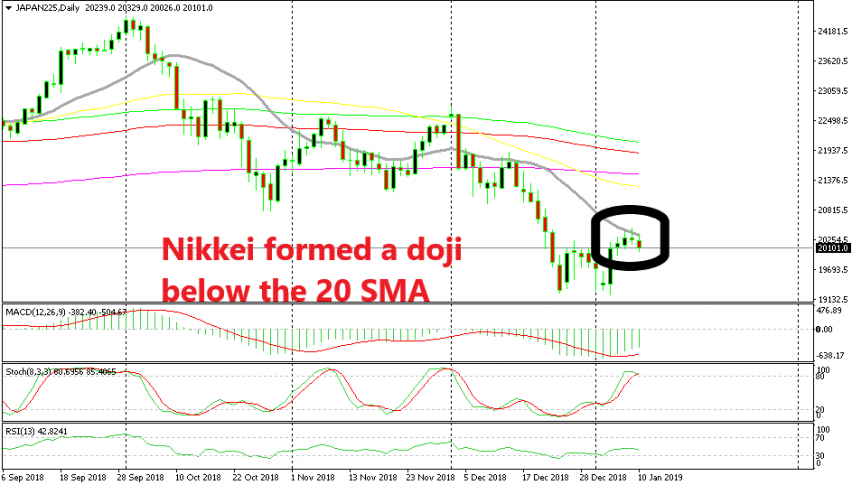 Nikkei Forming a Bearish Reversal Chart Setup
We opened a sell signal in Nikkei on Wednesday around the same time we opened our Bitcoin signal. Stock markets had been rallying higher for a few days as the sentiment improved somewhat in the financial markets.
Although, the main trend is still bearish for indices. Nikkei turned bearish at the beginning of October at the same time as crude Oil because the sentiment took a hit at that time and since then, risk assets such as Oil and stock markets have been on a strong bearish trend.
So, the retrace higher of the last several days took Nikkei to the 20 SMA (grey) and the first idea was that this s it for the buyers. The 20 SMA hasn't been exactly been a strong support and resistance indicator but when the trend is strong, such as the steep downtrend during December, the smaller period moving averages come into play, until the larger ones catch up with the price.
Besides, the stochastic indicator was overbought, which meant that the retrace was complete and a reversal was due. But, reversals don't happen just like that, especially on larger time-frames such as in daily chart. So, it took the sellers some time to get themselves together and yesterday's comments from FED members didn't help their cause much.
But, the price formed a doji candlestick yesterday which is a reversing signal after piercing the 20 SMA for a moment and returning below it. It seems that Nikkei sellers saw this chart setup and today they finally decided to make their move.
The bearish reversal is already underway and our signal here is in green, so we are around 150 pips in profit so far. After making around 250 pips in Bitcoin, it seems like we will have another winning long term signal today, or perhaps tomorrow.