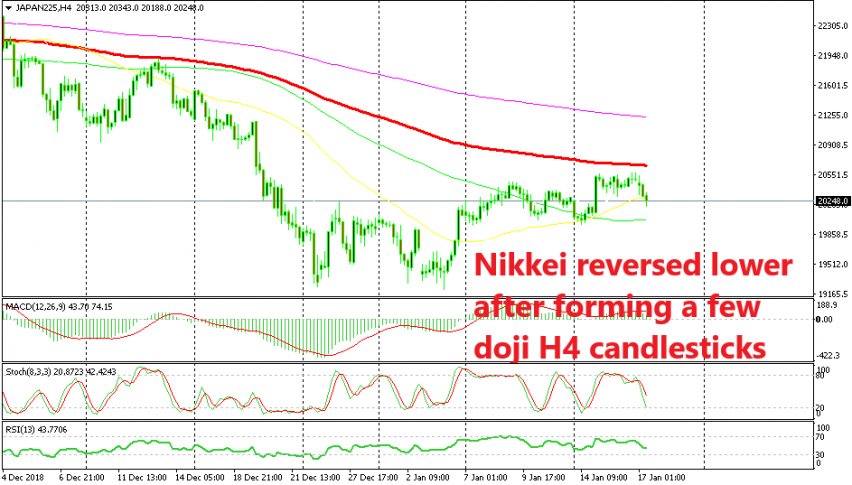 A Great Lost Opportunity in Nikkei Yesterday
Yesterday I was looking at the Nikkei H4 chart in the morning. This index has retraced higher since Christmas in thin liquidity markets as all other major indices have during this time, but as I explained in an earlier forex update this morning, there's not much meat behind this bullish pullback since global fundamentals still remain pretty bearish for stock markets.So, I was waiting for Nikkei to form a bearish reversing chart setup but I forgot to check it in the evening. It did form a reversing setup last evening which we missed. Stochastic indicator was overbought on the H4 time-frame and the price formed a couple of doji candlesticks which are reversing signals.
Nikkei tumbled lower today after forming a doji candlestick yesterday
The price also formed a bearish reversal on the daily chart with stochastic indicator overbought and a doji daily candlestick. But, that candlestick completed late at night after the US session closed so there was no chance for me to see that.
Nikkei was trading at around 20,580 during the European session yesterday while this morning it traded around 400 pips/points lower to 20,180 after a bearish reversal lower during the Asian session today. That means we missed a great selling opportunity worth 400 pips.
Well, that's life, but the decline has stopped now and the price is slowly crawling higher so we will wait for the price to run up to the 100 SMA (red) on the H4 chart and probably go short from there. By that time, stochastic will be overbought again.