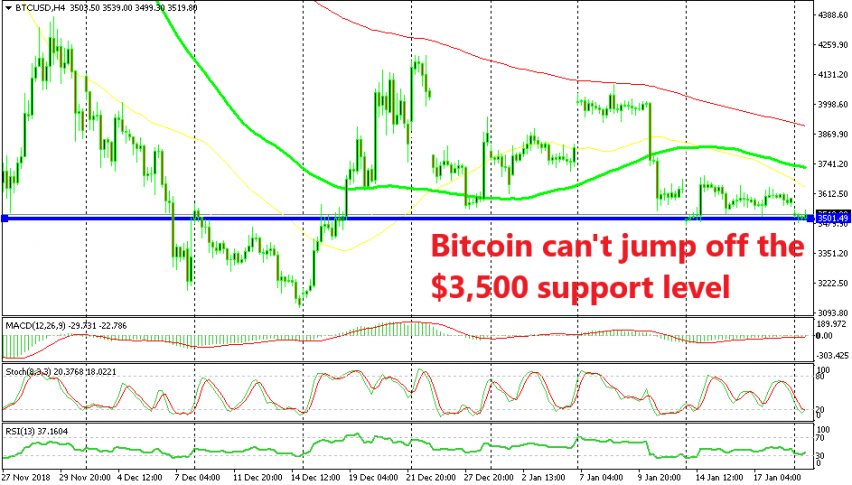 Bitcoin is Back at this Support Area
The major bearish trend has come to a halt for cryptocurrencies with BITCOIN stopping above the $3,000 level. We saw a bounce late last year as the price reversed and climbed above the $4,000 level, but the buyers didn't have enough confidence to take it higher.
So, the zone around the $4,000 level has turned into resistance now. The buyers had another go at that topside resistance two weeks ago, but failed once again and the high that time was lower than the previous one. So, the selling pressure is still very much alive and the sellers continue to remain in control for now.
This bias has become even stronger after the failed attempt to reverse higher last week from the support area around the $3,500 level. We sold Bitcoin near the top two weeks ago and booked profit as the price reversed down, ahead of this support zone. This area has provided support back in November and a few times again this year, so we didn't want to risk our profit.
The price bounced around $200 pips higher last week, which seemed like the beginning of a bullish reversal, but now we see that that wasn't the case. Bitcoin buyers gave up pretty quickly below $3,700 and we are back down here now. The buyers continue to remain in control, so we're not going long from here yet.
Perhaps the sellers will go for another push lower which would take us closer to the $3,000 level. That would be a better place to go long from. But, we will see how Bitcoin reacts around the $3,500 level where we currently are. If Bitcoin doesn't jump higher from here, then get ready for a bearish move to follow.