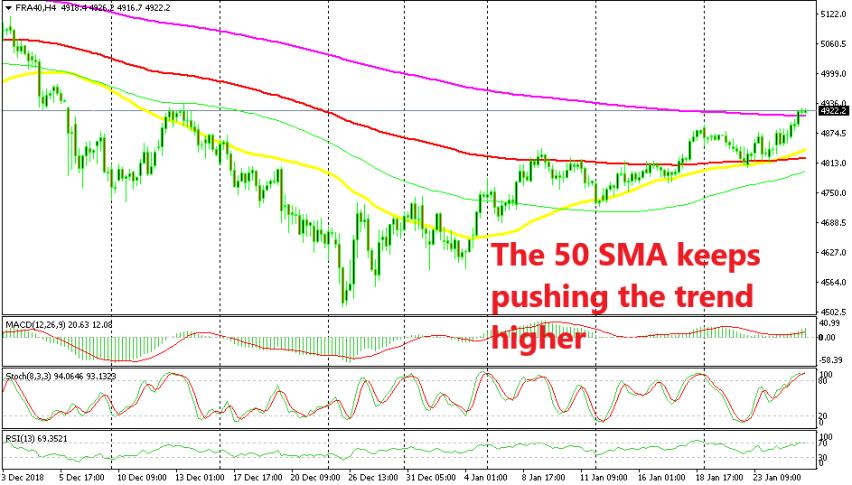 French CAC Climbs Higher As Stocks Extend the Upside
In the last few hours, we have seen risk currencies such as commodity Dollars make a bullish move higher, climbing around 50 pips. But at the same time, safe havens such as the JPY has also moved higher as USD/JPY losses around 40 pips. Gold has been the quickest to take advantage of this, surging 120 pips higher in a little more than an hour.
So, this neither a run for safe havens, nor is it a run for risk assets. It is just the USD getting flushed down for whatever reason that might be. However the case might be, stock markets are taking advantage of the weaker Dolar and are stretching the uptrend higher.
Stocks reversed last year's bearish trend at the end of 2018 and they have formed a bullish trend this month. There have been several retraces lower but the 50 SMA (yellow) on the H4 chart has stopped them all, reversing CAC higher and pushing the trend higher.
The 100 SMA (red) was finally broken last week after resisting for two weeks, and today it seems like it's the turn for the 200 SMA (purple). Although, CAC faces the 100 SMA on the top side on the daily chart. Although, I don't think the buyers will push above it today. Anyway, let's see how the day ends and not make assumptions because we are seeing some increased volatility in the last few hours.