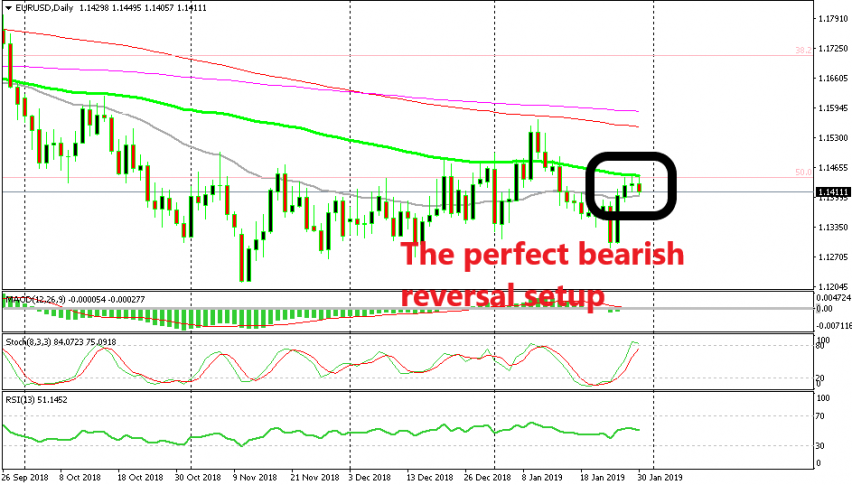 EUR/USD Forms A Bearish Reversing Pattern Below the 100 SMA
EUR/USD has been on a bearish trend last year, but in the last three months, this pair has traded sideways. This pair has formed a support area at 1.1280-1.13 and another one at 1.1200-1.1220. Last Thursday we saw this pair make a bearish move and test the first support area.
It failed to break below 1.1280 and the next day we saw a bullish reversal as the USD got sold off aggressively that day. The bullish momentum continued on Monday as well and the buyers tried the upside once again yesterday. But, they failed to break above 1.1450 which is a resistance level on its own and now this pair has formed a bearish reversal setup on the daily chart.
The 100 SMA (green) has been working as resistance for EUR/USD as you can see fro the chart above and it seems like it is doing that job again right now. That moving average comes at 1.1450 and that's the high for this pair so far this week.
The stochastic indicator is overbought which means that the 100 SMA as well as the resistance level at 1.1450 are holding on. Yesterday, the daily candlestick closed as a doji which is a reversing signal. Today's candlestick looks already bearish so the reversing pattern is complete.
Although, the FED meeting this evening might ruing this chart setup. If the FED doesn't sound particularly hawkish, the market will take it as a bearish sign for the Euro. But, they might also sound less dovish than in the last meeting which would send the USD higher, thus EUR/USD lower. Larger time-frame chart setups tend to coincide with fundamentals pretty often, so don't be surprised if the FED makes this chart formation work out and send EUR/USD tumbling lower later today.