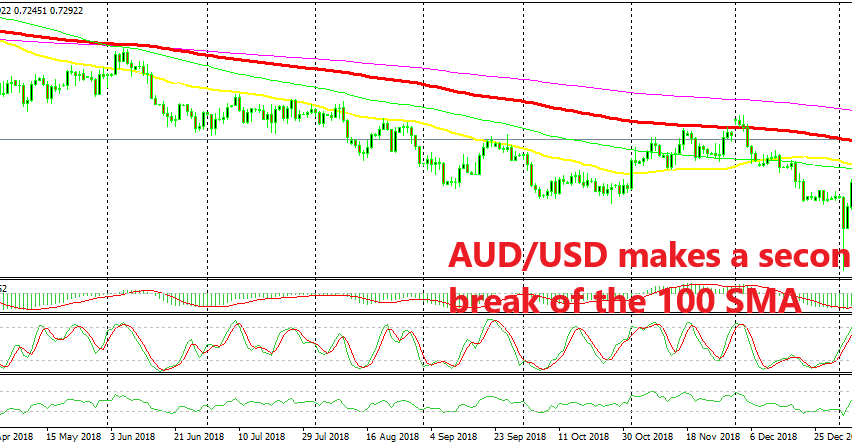 Is AUD/USD Changing the Trend or Will the Break of the 100 SMA be a Fake-out?
AUD/USD made a big bearish move in the first trading day of this year amid thin liquidity, losing around 300 pips on January 2. But, it reversed back higher in the next few days, claiming all of the losses and pushing further higher as the month progressed.
There was a hesitation by the middle of January and we saw a slight retrace lower, but the upward momentum continued further towards the end of last month and climbed nearly 600 pips higher from the lows at the beginning of January.
Although, the bigger trend which started at the beginning of last year continues to be bearish. The 100 SMA (red) (red) has been the main indicator to provide resistance on retraces higher and when the trend picked up pace, the 50 SMA (yellow) took its place.
But, the 100 SMA was pierced to the upside yesterday which raises the question if the downtrend will resume again or whether AUD/USD is finally shifting to bullish this year after being bearish for almost a year. The 100 SMA was broken once before at the beginning of December when AUD/USD opened with a bullish gap above it. So, there is a chance that the price returns back below the 100 SMA, which will make this break a fake-out.
If that's the case and the price slips below the 100 SMA, then that would be a great chance to open a long term short on this pair. On the other hand, if China and the US reach a trade agreement and the trade war starts to die out, the Aussie will surge higher. So, we will have to wait and see how trade negotiations between the two sides end in Washington.