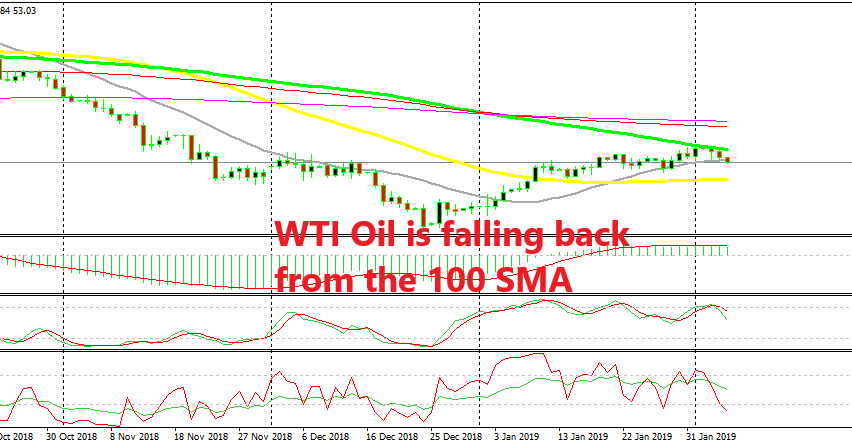 US Oil Turning Lower After Finding Resistance at the 100 Daily SMA
Crude Oil prices have made quite a reversal in the last several weeks. Oil had been on a steep decline since the beginning of October as sentiment turned massively negative due to a number of factors, but at the end of December it suddenly reversed higher, taking advantage of the thin liquidity that surround markets in the Christmas period.
US WTI crude Oil reversed higher and climbed $13 cents in about five weeks. It broke above the 20 SMA (grey) and the 50 SMA (yellow) without much resistance from these two technical indicators early in January, but it ran into the 100 SMA (green) at the end of last month which provided solid resistance as we can see from the daily WTI chart above.
The price stared to slip lower this week, although the 20 SMA is providing some sort of support. This moving average provided resistance in December during the decline and it provided support last week as Oil was climbing higher. So, there's a chance that the 20 SMA might turn into support now.
If it doesn't then the target for sellers will be the 50 SMA (yellow). The 50 SMA stands just above the big round level at $50 which should provide some support by itself. So, everything is lining up for the 50 SMA to turn into support. That would be a good place to go long on WTI, looking for a decent bounce at least. So, I think I will observe Oil and will get back to you when we reach the 50 SMA. Until then, I will leave Oil to my colleague Arslan who is in charge of commodities.