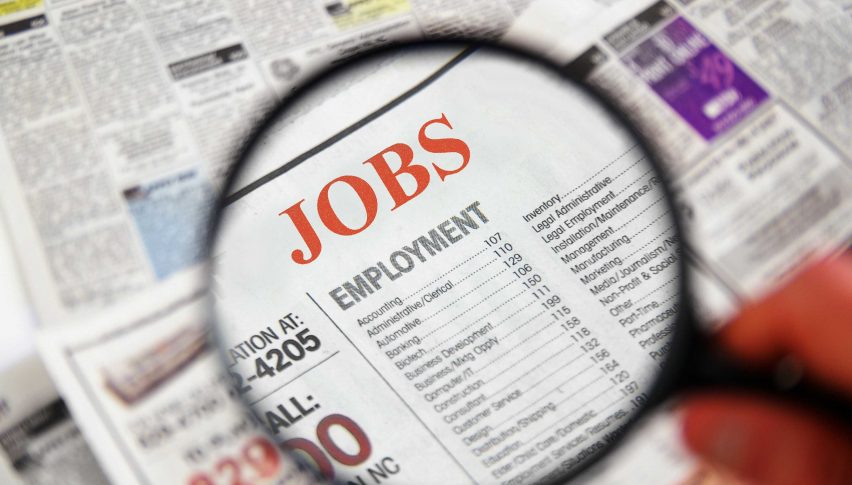 Daily Briefing, Feb 8 – How to Trade Canadian Dollar on Employment Report?
Posted Friday, February 8, 2019 by
Arslan Butt
• 2 min read
Forex Market Preview
Global stock markets had a robust day yesterday as worries that a deal between China and the US won't be happening anytime soon continued to press on sentiment.
President Trump is now suggesting that a meeting with President Xi of China is very unlikely before March 1.
Most of the major stock indices concluded their days down with the European markets hit hardest.
The dollar maintained its recent bullish run. It's trading close to monthly highs now at $96.60.
The Pound took a tumble as the BOE cut its growth forecast but sharply corrected on short covering. Governor Mark Carney advised that markets should keep the chance of further rate hikes on the table.
Today, the Canadian labor market figures remain under the spotlight. Here's how the Canadian labor market can impact USD/CAD today.
Canadian Dollar – CAD
Employment Change – It's always exciting to trade events like Canadian employment change as it's highly unpredictable and the market often exhibits massive fluctuations on its release. Especially if the data reports a sudden rise or drop in the employment change. Employment Change is due to release at 13:30 (GMT) with a negative forecast of 6.5K jobs vs. 9.3K jobs in January.
Unemployment Rate – Canadian labor market figures got support over improvement in crude oil prices. However, the recent drop in oil prices can continue to impact Loonie once again.
Canadian economy heavily depends upon crude oil exports and lately, the oil prices have stuck around $50, but it's still below $78 (October 2018).
This drop in Canadian revenues has ultimately impacted Canadian economic growth. Which is why the economists are expecting a surge in the unemployment rate from 5.6% to 5.7% for the month of January 2019.
USD/CAD – Technically Overbought, Wait for Selling Level
With these fundamentals in hand, the USD/CAD can offer us a nice trade opportunity. As you can see, the USD/CAD is massively overbought on the 4-hour timeframe. The relative strength index (RSI) is holding at 96, which is insane. The Canadian dollar needs to retrace back even if it intends to continue its bullish trend.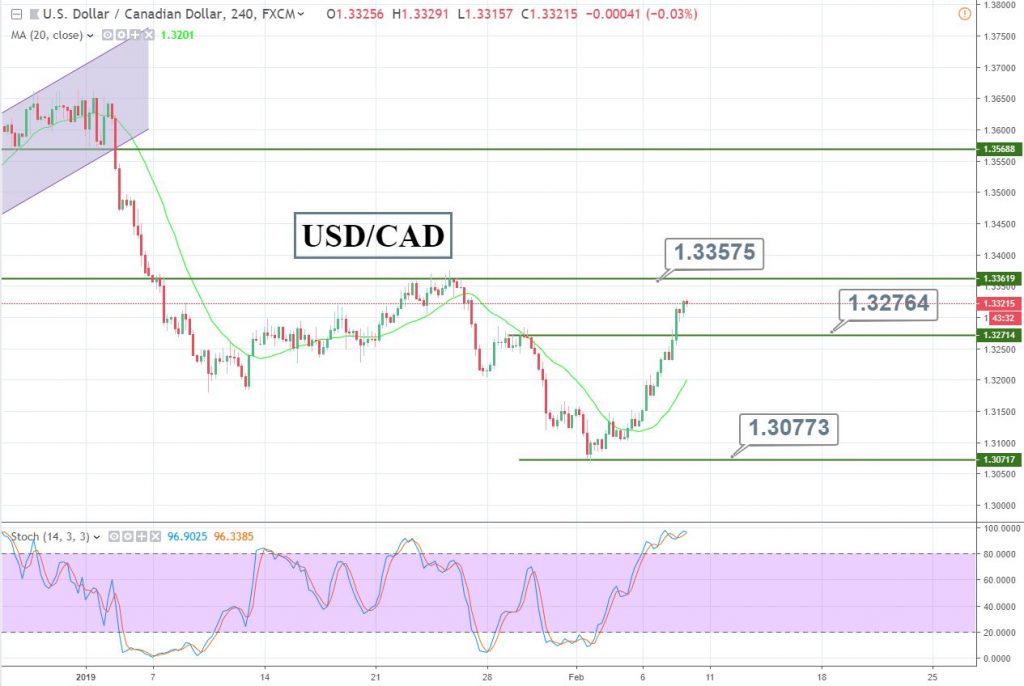 The pair may face a solid hurdle up there around $1.3360, along with support at $1.3270. All you need is to keep a closer eye on $1.3360 level as closings below this level can trigger a sell-off in the market today.
Support Resistance
1.3253 1.3341
1.3197 1.3373
1.3109 1.3461
Key Trading Level: 1.3285
USD/CAD – Trade Plan
The USD/CAD is in the middle of buying and selling levels and it's better to wait for the pair to reach a reasonable trading level. I will consider selling below $1.3375, especially if the Canadian labor report comes out surprisingly well. The stop loss should be around $1.3390 and take profit stays at $1.3200.
Good luck!