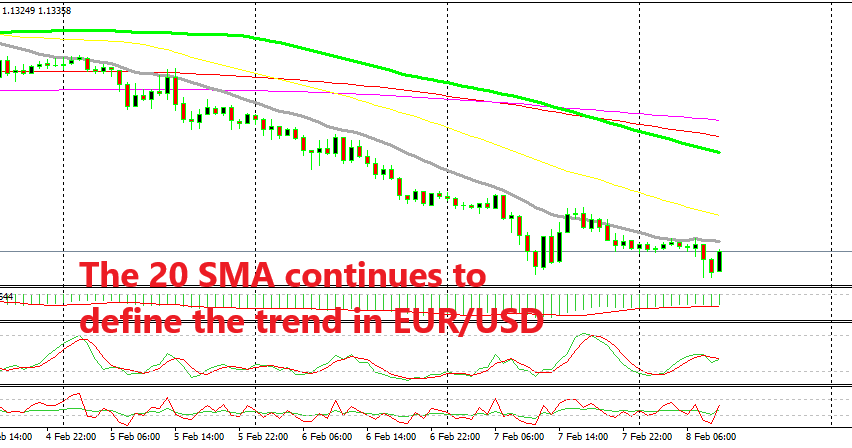 The 20 SMA is not Giving Buyers Any Chance in EUR/USD
Yesterday we talked about the EUR/USD and how it has been following a pretty straight line as it slips lower bit by bit. This forex pair turned bearish at the end of last week, and I haven't seen such a straight trend such as the one we are seeing this week in EUR/USD.
Well, like we mentioned yesterday, that's because the 20 SMA (grey) has provided resistance to the pullbacks, if you can call them that and it has been pushing this pair lower. Yesterday thee were two occasions when the price met the 20 SMA.
The 20 SMA rejected the price both times and we see another such case this morning. So, the downtrend has been really predictable for EUR/USD and from the looks of it we see that it is heading towards the support zone which surrounds the 1.13 level.
That is a decent support level and if it is broken, then the sellers will face 1.1280 and 1.12, but let's take one step at the time and see if the 1.13 level will go today or whether we will see a rebound. If there is a rebound and the 20 SMA gets broken on the H1 chart, then it might be the time to pull off the table some of the sell positions for those traders who are already short on this pair.