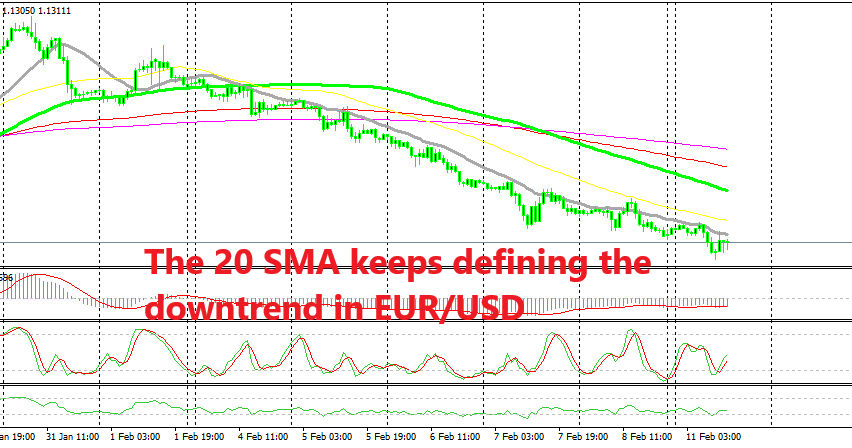 No Escape for EUR/USD as the 20 SMA Keeps Pushing it Down
It seems like there is no escape for EUR/USD. This pair turned bearish about two weeks ago after surging more than 200 pips in the previous week. Since then, the bearish trend has been evolving step by step, breaking all support levels and it even pushed below 1.13 today.
When the reverse started, it didn't look very promising. In fact, the trend hasn't been too promising since we haven't seen major bearish moves. It has been quite the opposite – the price has slipped lower bit by bit a few pips at a time, but on the other hand, we haven't seen any decent bounces either.
This pair has broken support levels in a quiet manner during the last two weeks without much force but we haven't seen any resistance either. The biggest bounces we have seen so far are around 30 pips. This shows that the trend is consistent and the pressure is all on the downside.
One indicator which has been responsible for defining the downtrend in EUR/USD is the 20 SMA (grey) on the H1 chart. This moving average has been pushing this pair down and hasn't let the buyers breathe. The buyers had a go and tried to reverse EUR/USD above the 1.13 level last Friday which was the only time they managed to push above the 20 SMA, but the 50 SMA took its turn in providing resistance and here we are back in this downtrend today.
So, EUR/USD remains in a solid downtrend and unless the price moves above the 20 SMA and stays there, then down is the way to go. Keep an eye on this pair to see if it moves above the 20 SMA if you are already short on EUR/USD.