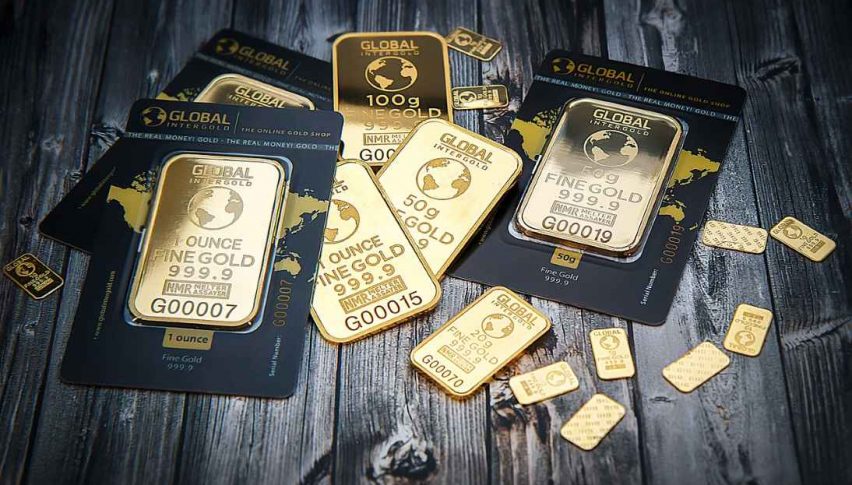 38% Fibonacci Level Key For Gold
A "two-way catalyst" is a price point that brings both buyers and sellers to the market. They are typically big-round-numbers, but may also be an obvious technical level or periodic high/low. For April GOLD futures, the two-way catalyst is currently the 38% Fibonacci retracement (1312.2) from the daily chart.
When key numbers bring both buyers and sellers to the market, price action can become compressed as the tug-o-war ensues. The result is a period of sideways action, eventually leading to a breakout. For April gold, this is proving to be a likely scenario.
April Gold Futures: 38% Fibonacci Retracement Is The Key Number
April gold futures are currently in a consolidation phase around the 38% Fibonacci retracement level of the current daily wave. The 1312.2 price point has been traded in each of the past five sessions and is the key number for today.
Here are a few technical levels worth watching as the week wears on:
2-Way Catalyst: 38% Current Wave, 1312.2

Support(1): Bollinger MP, 1305.0

Support(2): Daily SMA, 1299.7
Bottom Line: Given the strong session for U.S. stocks, it appears that gold traders are in no hurry to do much of anything. Prices remain in bullish territory and are poised to move higher if the 38% Fibonacci retracement holds as downside support. If not, a sell-off and test of 1300.0 may be in the cards for later this week.
In the event April gold breaks out to the bear, a long trade from downside support will come into play. Until elected, I will have buys in queue from 1301.4. With an initial stop at 1298.9, this trade produces 25 ticks on a bounce from 1300.0 and the Daily SMA.
Yesterday the FED delivered a hawkish pause with the DOT Plot pointing to more rate hikes, today the SNB and the BOE should hike by 25 bps
3 days ago